EU Opens Landmark Talks With Bosnia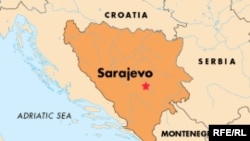 (RFE/RL) 25 November 2005 -- EU Enlargement Commissioner Olli Rehn today officially opened negotiations on closer ties between the EU and Bosnia.
Rehn said at a ceremony in Sarajevo that "today marks a new phase in the relationship between the EU and Bosnia-Herzegovina."
The talks are the first step toward joining the EU, a process that can take years.
(AFP)