Reports say this week's trial sessions could also see witnesses testify against Hussein for the first time. Hussein and his seven co-defendants are charged with killing more than 140 Shiites after an assassination attempt against Saddam in the town of Al-Dujayl in 1982. All eight defendants, who could face the death penalty if convicted, have pleaded not guilty.
The trial opened 19 October 19, but was adjourned for 40 days to give defense lawyers more time to prepare. Since then, two defense lawyers in the case have been murdered, and Iraqi authorities on 27 November reported they had broken up a plot to kill the tribunal's top investigating judge.
Iraqi President Jalal Talabani has rejected comments by former Prime Minister Iyad Allawi saying that human rights abuses in Iraq are as bad now as they were under Hussein's rule.
Allawi made his comments to a British newspaper in advance of Iraq's 15 December parliamentary elections, for which he is campaigning.
Canadian officials have confirmed that four people identified as humanitarian workers, including two Canadians, have been kidnapped in Iraq. British officials say they are investigating whether a British citizen is among those abducted. The fourth person kidnapped is reported to be an American.
(Reuters/AP/AFP)

The Tragedy At Al-Dujayl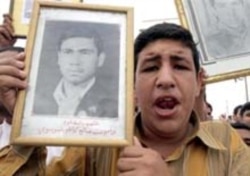 A protester in Baghdad carries a picture of a relative killed at Al-Dujayl (AFP file photo)


READ
Former Iraqi dictator
SADDAM HUSSEIN
and seven of his associates went on trial on October 19, 2005, on charges of crimes against humanity for the regime's role in the deaths of 148 residents from the town of Al-Dujayl, and the imprisonment of 1,500 others following a botched assassination attempt against Hussein there on July 8, 1982. Following the arrests and deportations, the regime leveled the town...
(more)
See also:
Al-Dujayl Native Tells Her Story
Al-Dujayl Survivor Says 'We Want The Deserved Punishment For The Guilty