Ukrainian Defense Minister To Moscow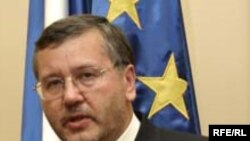 Anatoliy Hrytsenko (file photo) (RFE/RL) 29 November 2005 -- Ukrainian Defense Minister Anatoliy Hrytsenko is expected to arrive in Moscow today for talks with his Russian counterpart Sergei Ivanov.
The two defense chiefs are expected to discuss a range of bilateral defense issues, including reported problems connected with the basing of the Russian Black Sea Fleet at Sevastopol in Ukraine.
Earlier this month, Ukrainian Foreign Minister Borys Tarasyuk accused Russia of violating the 1997 agreement under which Russia is allowed to base the fleet at the port until 2017. The allegations included charges that Russia is illegally occupying land that it is not entitled to around the port.
The Russian and Ukrainian defense ministers are expected to attend a meeting of the Commonwealth of Independent States Defense Ministers' Council session in Moscow tomorrow.
(ITAR-TASS)