Kyrgyz Deputy's Slaying Linked To Drug Trade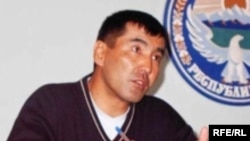 Bayaman Erkinbaev was killed on 21 September (RFE/RL) 29 November 2005 -- The head of Kyrgyzstan's National Security Service today said that the September slaying of a Kyrgyz parliamentarian was likely linked to the illegal drug trade.
Tashtemir Aitbaev made his remarks today before parliament in reporting the results of an official probe into the killing of Bayaman Erkinbaev on 21 September.
Aitbaev said that shortly before Erkinbaev's killing, he held a meeting with a mafia boss concerning a shipment of heroin to a local prison. Aitbaev said that Erkinbaev had refused to arrange for the delivery of the drugs.
Aitbaev said that the person who allegedly ordered the assassination and the person who allegedly carried it out have been arrested.
Erkinbaev was the third parliament deputy killed in Kyrgyzstan since the ouster of the former government in March.
(AFP/Interfax)
RFE/RL Central Asia Report

SUBSCRIBE For regular news and analysis on all five Central Asian countries by e-mail,
subscribe to "RFE/RL Central Asia Report."