Human Rights Watch Barred From Andijon Trials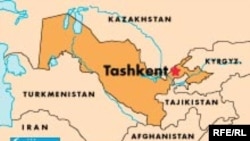 (RFE/RL) 30 November 2005 -- The New York-based rights group Human Rights Watch said today that Uzbek authorities have barred it from observing fresh trials relating to the May disturbances in Andijon.
HRW regional director Holly Cartner said the Uzbek government's attempt to cover up the truth about Andijon now extends into the courtroom itself.
She said the authorities claim to be conducting fair trials, but in fact are withholding all information about the proceedings and denying access to observers.
Earlier this month, 15 men were sentenced to up to 20 years in jail for organizing the revolt. Rights groups criticized those proceedings as a show trial.
Rights groups and witnesses say hundreds of people, mostly civilians, died in the government crackdown in Andijon. The government says 187 people died, mostly militants, police, and soldiers.
(AP)


A dedicated webpage bringing together all of RFE/RL's coverage of the events in Andijon, Uzbekistan, in May 2005 and their continuing repercussions.
CHRONOLOGY
An
annotated timeline
of the Andijon events and their repercussions.