Court Issues Arrest Warrant For Yukos Lawyer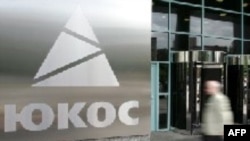 Yukos logo (AFP) 30 November 2005 (RFE/RL) -- A Moscow court today issued a fresh arrest warrant against Dmitrii Gololobov, the chief lawyer of Russia's Yukos oil company.
Russian media reports say the new warrant was issued on money-laundering charges.
Gololobov is already wanted in Russia for allegedly having illegally taken control of shares in the Russian Eastern Oil Company that are worth more than 3 billion rubles ($105 billion). Four other Yukos employees have been arrested in connection with this case.
Gololobov reportedly lives in Britain.
Former Yukos CEO Mikhail Khodorkovskii is currently serving an eight-year prison sentence in Eastern Siberia on fraud and tax evasion charges. Khodorkovskii and his supporters say the accusations are politically motivated.
(RFE/RL's Russian service/Interfax)