Kadyrov Is Unified Russia's Top Chechen Representative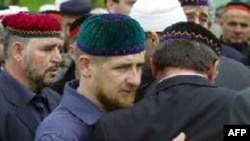 Ramzan Kadyrov at his father's funeral last year (AFP) 7 December 2005 -- Ramzan Kadyrov, the first deputy prime minister of the pro-Moscow Chechen government, has been elected chief regional representative of Unified Russia, Russia's ruling party.
The announcement was made today in Grozny by Chechen presidential spokesman Muslim Khuchiyev.
Ramzan Kadyrov is the son of late Chechen president Akhmad Kadyrov, who died in a May 2004 bomb attack.
Unified Russia won a sweeping victory in last month's Chechen legislative polls, grabbing 33 of the bicameral parliament's 58 seats.
(ITAR-TASS/RIA-Novosti)


RFE/RL's complete coverage of Russia's war-torn Republic of Chechnya.
CHRONOLOGY
An
annotated timeline
of the Chechnya conflict.