Polish PM's Adviser Refused Entry To Belarus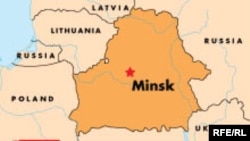 (RFE/RL) 11 December 2005 -- An adviser to Polish Prime Minister Kazimierz Marcinkiewicz was today refused entry into Belarus and briefly detained at the border.
Michal Dworczyk, the prime minister's adviser for emigre and Polish ethnic community affairs, told television channel TVN24 that Belarusian border guards asked him to leave his car, took his passport, and told him that he was an undesirable person.
Government spokesman Konrad Ciesiolkiewicz said the incident has to be cleared up by the Polish Foreign Ministry and the Belarusian Embassy in Warsaw.
(Reuters/AFP)
Video Roundtable On Belarus/Ukraine


On December 8, 2005, RFE/RL and the Policy Association for an Open Society (PASOS) jointly conducted a roundtable discussion on issues relating to Belarus's post-Soviet transition. To view video of the roundtable, click here.
See also:
Belarus: Authorities 'Cleanse' Media Ahead Of 2006 Vote
Can Belarus's Opposition Unite To Challenge Lukashenka?