Russian FM: Western Influence Must Not Infringe On Moscow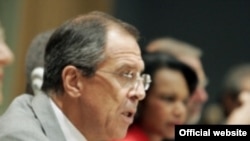 Russian Foreign Minister Sergei Lavrov (file photo) (official site) 11 December 2005 -- Russian Foreign Minister Sergei Lavrov says the rising influence of the West in the former Soviet republics should not infringe upon Russia's own interests in the region.
Lavrov said the involvement of "nonregional players" like the United States and European Union is becoming "more visible" in the Commonweath of Independent States (CIS).
Lavrov was speaking late yesterday to Russia Today, the 24-hour English-language global television news channel launched the same day.
Speaking in English, he said the Western presence in Central Asia and the Caucasus is based on legitimate interests, like antiterrorism efforts and energy resources.
But he said the West should pursue its interests in a way that acknowledges Russia's "historic, cultural, and economic" ties to the region.
(AFP)