Gazprom in a written statement blamed Ukraine for allegedly blocking negotiations on this issue.
Russia is considering demanding near-European prices for gas supplies to most CIS countries as of next year.
Moscow wants to hike the price it is charging Ukraine to $160 per 1,000 cubic meters of gas from a current $50. In return, it says it is ready to pay the full market transit price for the gas it ships to Western Europe through Ukraine.
In related news, Gazprom Chairman Aleksei Miller told Belarusian First Deputy Prime Minister Vladimir Semashko in Moscow today that his company will continue delivering gas next year under conditions agreed upon in 2005.
(gazprom.ru)
Interview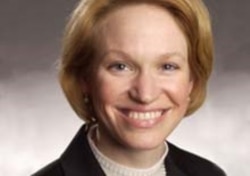 Celeste Wallander directs the Russia and Eurasia Program at the Center for Strategic and International Studies and is a CSIS senior fellow. Before joining CSIS, she was senior fellow at the Council on Foreign Relations in Washington, D.C., and associate professor of government at Harvard University. She is the founder and executive director of the Program on New Approaches to Russian Security. Her recent projects include work on U.S.-Russian security cooperation, the history of Russia and globalization, HIV/AIDS in Russia, and the 2004 Ukrainian presidential election. Among her books are "Swords And Sustenance: The Economics Of Security In Belarus And Ukraine" and "Mortal Friends, Best Enemies: German-Russian Cooperation After The Cold War." She is currently writing "Global Russia: Economics, Politics, And Security."
On November 29, 2005, she spoke with RFE/RL's Ukrainian Service about Russia's energy policies and how Moscow might be seeking to leverage its influence over its neighbors. Listen to the complete interview.
Real Audio Windows Media
To read a transcript of the interview,click here.
Related Articles: