Ukrainian FM Urges Cool Negotiating With Russia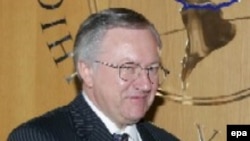 Borys Tarasyuk (file photo) (epa) 22 December 2005 -- Ukrainian Foreign Minister Boris Tarasyuk called for less emotional comments to resolve his country's dispute over higher prices Russia is demanding for exports of natural gas.
Tarasyuk said calls for raising the Russia's rent for using the Black Sea naval base at the Ukrainian city of Sevastopol quote "is not the method needed to solve these vitally important questions."
Ukrainian President Viktor Yushchenko said on 20 December that the if Russia quadruples the price of gas, as Russian officials have said, then Ukraine should ask for higher rent for Russian use of the Sevastopol base.
Meanwhile, Ukraine's charge d'affaires in Russia Leonid Osavolyuk accused on 22 December Russia's Black Sea Fleet of misappropriating facilities in the Crimea.
Osavolyuk said a "array of facilities" was illegally in the hands of Russia's Black Sea Fleet and Ukraine wanted that property back. Osavolyuk did not name any specific facilities.
(ITAR-TASS/AP)