Yushchenko Tells Ukrainians Gas Prices Won't Jump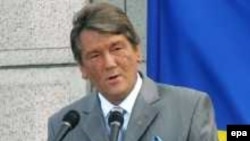 President Yushchenko (file photo) (epa) 18 December 2005 -- Ukrainian President Viktor Yushchenko has told his citizens they will not face large hikes in the price of natural gas in the near future.
Yushchenko, speaking yesterday in a national radio address, said the communal and public sectors will use mainly gas that is extracted inside the country.
The statement appeared aimed at calming Ukrainians anxious over recent threats by Russia's state-run gas monopoly Gazprom to more than quadruple the price of natural gas sales to Kyiv.
Moscow has also threatened to turn off gas supplies if an agreement is not reached by the start of the new year.
Kyiv has asked for price increases to be phased in gradually. Yushchenko said Ukraine's domestic industry could not withstand the "shock therapy" of an immediate price hike.
(Interfax-Ukraine/ITAR-TASS/AP)