A statement said the men, who were convicted in a closed trial, received prison terms ranging from 10 to 18 years for alleged crimes including murders, terrorist acts, and other violations.
The court also issued a correction, saying 41 men were sentenced on 21 December to prison terms ranging from 12 to 20 years in connection with the Andijon violence. The court had earlier said 42 men had been sentenced.
The verdicts announced on 23 December bring to more than 150 the number of people sentenced so far over the Andijon unrest.
The Uzbek government says 187 people died in the Andijon violence, but international rights organizations say hundreds of civilians may have been killed when security forces opened fire. The Uzbek government has rejected calls from the European Union, the United States, and United Nations human rights officials for an independent international inquiry.
(AFP/ITAR-TASS)
Uzbekistan's Ambassador To Tajikistan
Uzbekistan's Ambassador To Tajikistan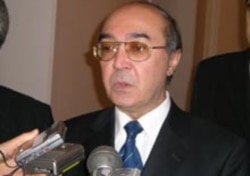 SHOQOSIM SHOISLOMOV, Uzbek ambassador to Tajikistan, spoke with RFE/RL Uzbek Service correspondent Habibullo Botirov on 14 December in the Tajik capital Dushanbe at a conference called the Forum For The Prevention Of Conflicts In Central Asia.
RFE/RL: Mr. Ambassador, at the opening session of this forum, you gave a speech and said that international organizations do not know the region of Central Asia very well and they often make wrong assessments of events in the region. What can you add to that statement?
Shoislomov: Yes, it is true that the region has many problems. But unfortunately, most employees of international organizations have never lived here. They don't know our life, our traditions, and customs. They don't have a deep knowledge [of the region]. Therefore, in their [reports], they portrait us as underdeveloped and backward. [Although], we can teach them 10 times more than they can teach us. There is such a thing as competency. They lack competency. These shallow opinions of theirs get reflected in some documents. They stigmatize us. Of course, we can never accept the stigma. One should think before putting opinions on paper.
The Central Asian states have 1,000 years of history. We face the hardest task in the war against religious extremism. When [the West] says it fights against religious extremism, they mean Islam. They try to portray our religion, Islam, from an absolutely different perspective in the world. In their opinion, Islam is an extremist religion. They try to say that it is a religion that goes against the West, against the whole world. Unfortunately, people in Western countries may accept these cliche.
RFE/RL: Erbol Shaimardanov, adviser to Kazakhstan's foreign minister, and some other participants said in their opening statements that Hizb ut-Tahrir has been included in the list of terrorist organizations. However, the organization can operate freely in some countries. How would you comment on this?
Shoislomov: It's a very correct question. If you want to fight against religious extremism, you should start with Hizb ut-Tahrir. But look at England itself. This summer it became a target of terrorist attacks. Hizb ut-Tahrir has its headquarter in London. [The British government] has given complete freedom to them. How can you understand it? We [the Uzbek government] has offered to everybody to fight against Hizb ut-Tahrir. As you see, many states have made a correct assessment of Hizb ut-Tahrir. But there are some governments, which consider themselves democratic, who gave complete freedom to Hizb ut-Tahrir. How can we treat an organization that comes from those countries and plot terrorist attacks on our territory? It's difficult to understand this. And they try to blame us for something.
See also:
Hizb Ut-Tahrir Challenges U.K. Government's Proposed Ban With Offer Of Dialogue
Uzbek Ties With Kyrgyzstan Worsen Amid 'Terror' Accusations
Uzbek Security Service Steps Up Work In Neighboring Countries