Azerbaijani Crash Investigators 'Can't Exclude' Terror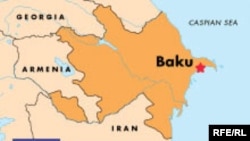 (RFE/RL) 24 December 2005 -- An official with Azerbaijan's national airline says investigators are looking at a control-system failure as the most probable cause of the fatal crash of one of its planes late yesterday along the Caspian Sea shoreline.
But Ilham Amirov, the deputy chief of Azerbaijani Airlines, added that investigators "can't exclude" a terror attack in the crash of the Ukrainian-made An-140 turboprop plane.
Recovery workers today retrieved the bodies of all 23 people who had been on the plane. The craft crashed shortly after takeoff from Baku en route to the Kazakh city of Aktau.
A spokesman at the Kharkiv plant that made the plane said it was built last year and was in proper technical order.
Ukraine has offered to send specialists to aid the investigation.
(AP/ITAR-TASS)

A photo gallery of the Azerbaijan opposition protests in Baku on November 9, 2005.