Russia Closes Case Against Tymoshenko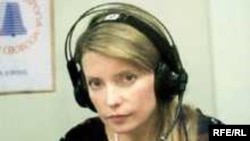 Tymoshenko speaking to RFE/RL in August (RFE/RL) 26 December 2005 -- Russian prosecutors have said they had closed a criminal case against former Ukrainian Prime Minister Yulia Tymoshenko because the statute of limitations had expired for the corruption charges against her.
Tymoshenko was accused of bribing Russian defense officials while she headed Ukraine's main gas distributor in the mid-1990s. She denied the Russian charges, saying they were politically motivated.
Tymoshenko, one icon of the Orange Revolution, was dismissed as prime minister in early September.
Tymoshenko met with Russian prosecutors in Moscow the same month and the international arrest warrant against her was dropped.
Tymoshenko's bloc is a top contender in the March parliamentary elections.
(AP)

An archive of RFE/RL's reporting and analysis on Ukraine's Orange Revolution.
REVOLUTION IN THE AIR: Listen to an audio portrait of the Orange Revolution from RFE/RL's archives.
Real Audio Windows Media