Baku Air Crash Possibly Due To Instrument Failure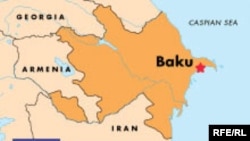 (RFE/RL) 28 December 2005 (RFE/RL) -- Azerbaijan's state carrier says flight instrument failure may have caused the crash of one of its planes that killed all 23 people on board last week.
The Ukrainian-made An-140 plane crashed on 23 December shortly after taking off from the Azerbaijani capital Baku. It was headed for Aktau, Kazakhstan.
Azerbaijani Airlines General Director Jahangir Askerov said today initial investigation suggested that the flight instruments failed after takeoff, making the crew unable to see the plane's position in the air.
At the same news conference, the director of the Ukrainian company that built the plane, Kharkiv Aviation Enterprise, Pavel Naumenko, said backup systems should kick in if positioning instruments fail.
(With agencies)