Russian Forces Trying To Pin Down Militants In Daghestan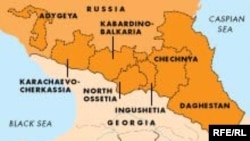 (RFE/RL) 4 January 2006 -- Security forces have resumed an operation to pin down a group of armed militants in Russia's southern republic of Daghestan.
Security officials say that, so far, one soldier has been killed and eight troops injured in fighting in the mountainous Untsukul district. Initially two soldiers had been reported killed in the clash which began early on 3 January. The operation was suspended at nightfall.
Up to five militants are also believed to have been killed in the fighting, which involved troops from the Interior Ministry and from the regular army backed by helicopter gunships.
Police said the armed group had entered Daghestan from Chechnya. The Daghestani interior minister, Adilgerei Magomedtagirov, is in charge of the security operation.
(ITAR-TASS/newsru.com)


RFE/RL's complete coverage of Russia's war-torn Republic of Chechnya.
CHRONOLOGY
An
annotated timeline
of the Chechnya conflict.