Ukraine Confirms Deadly Bird Flu On Crimean Farms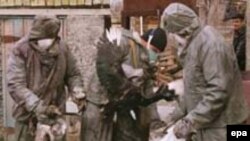 Ukrainian health workers culling birds in Crimea in December (epa) 10 January 2006 -- Ukrainian health officials have confirmed an outbreak of bird flu in three poultry farms on Ukraine's Crimea Peninsula.
Oleh Rusetskyy
, the regional agriculture minister, said today health authorities have been monitoring the outbreak of the disease in the poultry farms in the village of Primorsky since December, but it was only on 9 January that they received confirmation the outbreak was of the deadly H5N1 strain.
He said emergency workers had culled more than 171,000 birds on the farms.
The H5N1 virus has so far been identified in 14 Crimean villages. No human cases of the illness have been recorded.
(AP/Interfax)