Minsk Police Arrest Russian, Belarusian Activists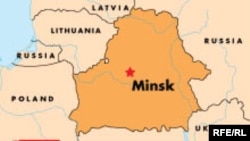 (RFE/RL) 15 January 2006 -- Police in Minsk have arrested nine Russian and two Belarusian human-rights activists on charges of painting opposition graffiti on a wall.
The 11 members of the "We" (Myi) organization were detained late on 14 January and are being held in the regional police station in the Belarusian capital. If found guilty, they could be imprisoned for up to five years.
The head of the rights group, Roman Dobrokhodov, said today that the arrested Russians had not come to Minsk with the aim of carrying out political activities.
The European Union and the United States have repeatedly condemned the abuse of human rights in Belarus.
(AFP, Ekho Moskvy)
RFE/RL Belarus, Ukraine, And Moldova Report

SUBSCRIBE For weekly news and analysis on Belarus, Ukraine, and Moldova by e-mail,
subscribe to "RFE/RL Belarus, Ukraine, And Moldova Report."