Prague, 16 January 2006 (RFE/RL) -- Hundreds of supporters greeted Ghalymzhan Zhaqiyanov as he arrived in Almaty on 15 January from northern Kazakhstan, where he had been in prison for more than three years.
The crowd chanted Zhaqiyanov's name as he emerged at a train station in the southeastern city of Almaty.
The 42-year-old Zhaqiyanov had been held in a remote, low-security prison zone in northern Kazakhstan since 2002 on charges of abuse of office as a former governor of the industrial Pavlodar Oblast in the north. Zhaqiyanov's supporters and international human-rights watchdogs, including Amnesty International, have said his imprisonment was politically motivated.
"If the Kazakh people wouldn't have fought for the release of Ghalymzhan, he would still be in prison. He did not try to compromise with the current regime while in prison. He should continue his political activity after release. The next step is a unification of democratic forces." -- another opposition leader
In 2001, he founded the opposition Democratic Choice of Kazakhstan movement, which was outlawed three years later.
He was freed under a provision in the law allowing detainees to be released on parole after having served half their sentences.
On 15 January, upon his arrival in Almaty, Zhaqiyanov was asked how he felt and replied "excellent." "In the name of God, I have taken my first steps in four years in Almaty," he said. "I'm very happy to see people gathered, to see my friends and relatives, to hug them. It's a big joy for me."
Among those who met and welcomed Zhaqiyanov were opposition leaders, including Zharmakhan Tuyakbai, the current head of the opposition group For a Just Kazakhstan, as well as Zhaqiyanov's family members and friends.
Karlygach Zhaqiyanova, Zhaqiyanov's wife, was overwhelmed with joy as she spoke to RFE/RL. "It is a very happy day. We have waited for this for such a long time," she said. "We look forward to the future with hope. We hope tomorrow will bring positive changes. It's a very emotional moment for our family and for people who are around us."
Zhaqiyanov's release came soon after President Nursultan Nazarbaev's inauguration on 11 January. He was eligible for parole since October, after having served half of his prison term. On 14 December, a court ruled that he should be let out.
However, prison officials stepped in and blocked the move, alleging that Zhaqiyanov had committed breaches of regulations while incarcerated. The opposition said the authorities delayed his release until after December's presidential election.
Sergei Duvanov, an independent journalist and a former political prisoner himself, spoke to RFE/RL in Almaty where he also welcomed the release of Zhaqiyanov on 15 January. "He should have been released long ago. But [the authorities] delayed it due to fear of some problems," he said. "They feared Zhaqiyanov's appearance on the political scene could lead to changes of the situation, negative changes for the authorities."
On 4 December, Nazarbaev was reelected to another seven-year term with an official 91 percent of the vote. Independent monitors declared the election flawed due to ballot-box stuffing, intimidation of opposition campaigners, and media bias. The Organization for Security and Cooperation in Europe (OSCE) said the election fell short of international standards.
However, the opposition did not try to stage protests, citing laws restricting public assembly.
On 14 January, Zhaqiyanov's wife said he was freed on parole after judges rejected a prosecutor's appeal against his early release. Opposition members say authorities waited until after Nazarbaev's inauguration.
Zharmakhan Tuyakbai, the leader of For a Just Kazakhstan and an unsuccessful candidate in last month's presidential election, told RFE/RL on Zhaqiyanov's release. "We can't say it is a victory of justice. Authorities were forced to release Ghalymzhan upon legal demands, that is, on one hand, a result of pressure from opposition forces," he said. "On the other hand -- and that's most important -- Ghalymzhan is free and he regained his position among us, democratic forces. It enables us to continue our work more efficiently and actively."
Members of the Kazakh opposition believe Zhaqiyanov's return will give a boost to their activity.
"If the Kazakh people wouldn't have fought for the release of Ghalymzhan, he would still be in prison. He did not try to compromise with the current regime while in prison. He should continue his political activity after release. The next step is a unification of democratic forces," Altynbek Sarsenbaev, a co-chairman of the opposition Naghyz Ak Zhol (True Bright Path) party, said.
However, Zhaqiyanov himself declined to answer questions about his political plans. He could still be returned to jail if he violates the law.
Zhaqiyanov's release is likely to be perceived as troublesome by officials in Astana, according to Bulat Abilov. "It's a headache for Astana. What will he want, what will he do, will he fight? In Astana, they think about this a lot."
Kazakhstan's government has been heavily criticized for jailing political opponents, but is seeking the OSCE chairmanship in 2009.
A Discussion Of The Kazakh Election
A Discussion Of The Kazakh Election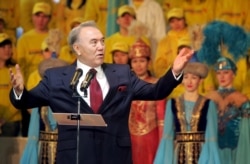 Kazakh President Nursultan Nazarbaev addressomg a rally of supporters on the day following the December 4 vote (epa)

DANGEROUS TO BE IN THE OPPOSITION: On December 8, RFE/RL's Washington office hosted a discussion of the December 4 presidential election in Kazkhstan. RFE/RL Kazakh Service Director MERHAT SHARIPZHAN and RFE/RL Central Asia Analyst DANIEL KIMMAGE participated in the discussion.
Sharipzhan highlighted the difficulties faced by opposition candidates -- including the untimely deaths of prominent opposition leaders -- and argued that they effectively chilled the political environment in the country. He also noted that the government repeatedly confiscated opposition newspapers during the campaign. However, he noted that Kazakhstan's relatively strong economy boosted Nazarbaev's popularity. Kimmage discussed Nazarbaev's pledge to proceed with democratization only after the economy is put in order, describing the political system in Kazakhstan as a form of "managed democracy."
Listen to the complete panel discussion (about 90 minutes):
Real Audio Windows Media



RFE/RL's complete coverage and background of Kazakhstan's presidential election on December 4, 2005.