RFI:
Have you thought about resigning from your position in the [High Criminal] Court?
Amin:
I do not want to reply to this question now.
RFI:
What were the criteria for choosing the judges in the [High Criminal] Court? Who proposed their candidacy for their posts? And, how many are they?
Amin:
There are five members of the sentencing council [that I preside on], nine members of the council of cassation, several investigative judges, and several members of the public prosecution, in addition to other employees. The conditions for naming this [High Criminal] Court have been specified by law. Competence, integrity, and a high standard [of knowledge and experience] in the legal field were required of the candidates.
RFI:
Will all of the current judges also take part in the other cases [where Saddam Hussein is expected to face charges]?
Amin:
There are three councils for penal charges, and each of them is waiting until the case is passed to them by an investigative judge.
RFI:
Do you think more trials will follow against those who committed crimes against Iraqis, similar to the trial with Saddam Hussein?
Amin:
I do not know.
RFI:
There have been many reactions on the proceedings of the trial among the Iraqi public. But through the reactions, it is apparent that people are rather uninformed on the laws and regulations that have been adopted specifically for this [High Criminal] Court.
Amin:
In fact, the High Criminal Court has to a large extent used laws that are applied in international tribunals. It also refers to the Iraqi Law on Criminal Proceedings [of 1971]. There are rules for conducting the procedure and collecting evidence in the Iraqi Supreme Criminal Court, in addition to Law No. 10 of 2005 on the Iraqi Supreme Criminal Court. The court has frequently referred to explicit enactments of the [Rome] Statute of the International Criminal Court, and the statutes of the International Criminal Tribunal for the former Yugoslavia and the International Criminal Tribunal for Rwanda. The laws have been published and people can easily go through them in the Iraqi Affairs ["Al-Waqa'i' al-Iraqiya" – Iraqi official circular].
RFI:
Why have the defendants been given complete freedom even in attacking [both prosecutors and witnesses] and in speaking about issues unrelated to the Al-Dujayl case? Does this not demean the work of the court?
Amin:
My dear, had people only known what the proceedings of ordinary trials in Iraq look like! Had they only seen and heard what happens inside courts! Swearing and insults are exchanged between litigants, or sometimes addressed to the court. That is a result of escalated emotions and conflicts that are hanging between the litigants. From my point of view, this is something against the law. Swearing is, of course, undesirable in people's ordinary lives, let alone before a court. It is natural, though, that they occur. As an experienced judge who has worked for a long time in the judiciary, I have been sworn at in court. I am really surprised that these issues have become so blown up and exaggerated [in commentary on the Hussein trial].
RFI:
How many other cases are expected [against Hussein]? Will you be a presiding judge in all of them?
Amin:
This question should rather be addressed to the investigative judges.
RFI:
Is there a need to transfer the trial outside Iraq in order to guarantee security and take advantage of international expertise?
Amin:
For the time being, the trial is as you can see. It has been going on in a fair and neutral way. So why transfer it?
RFI:
Will foreign countries or international bodies be taking part in collecting evidence and bringing charges against Saddam Hussein?
Amin:
No.
RFI:
If the charges raised against Saddam Hussein in Al-Dujayl case are confirmed, will he appear before court in other cases such as the case of Halabjah?
Amin:
There is no mutual relation between the cases. Each of the cases is separate and not related to the other ones.
RFI:
Will Saddam Hussein, then, be passed to face charges in the remaining cases?
Amin:
This is something I do not know. This will become clear in the coming days. I cannot anticipate what will happen.
RFI:
Has there been any interference or pressure, be it from inside or outside [Iraq], to influence the proceedings of the court?
Amin:
I personally reject any interference from anywhere. I have not noticed any direct interference. I am convinced that I have been conducting my work in neutrality and independence. This is what I can say for now.
RFI:
Would the proceedings of the court be conducted as they are now if the defendant were someone other than Saddam Hussein?
Amin:
A defendant is just a defendant. We, as the members of court are supposed not to know the defendant. The court works on a file. When the defendant appears before the court, we start dealing with the charges and related testimonies. It is true, though, that conditions may differ from case to case.
(Translated by Petr Kubalek)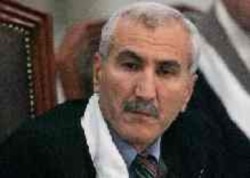 On November 11, 2005, RFE/RL's Radio Free Iraq (RFI) spoke with Iraqi Special Tribunal presiding Judge
Rizgar Muhammad Amin
about the trial of ousted Iraqi President Saddam Hussein and seven of his associates...
(more)