Zhaqiyanov made the comments at his first press conference since his early release on 14 January after more than three years in jail.
Zhaqiyanov also urged President Nursultan Nazarbaev to deliver on his promises of democratic reforms.
"My position, the position that my comrades and I put forward in the fall of 2001, has not changed," he said. "It remains the same. Now, four years later, I am still absolutely convinced that democratic reform is necessary for the normal development of our society, of our country."
Zhaqiyanov co-founded the Democratic Choice of Kazakhstan (DVK) movement in 2001. He was sentenced to seven years in prison the following year for abuse of office while governor of Pavlodar Oblast.
The DVK was banned in 2004 but Zhaqiyanov joined the opposition coalition For a Just Kazakhstan while in prison.
Zhaqiyanov's supporters and rights groups say his imprisonment was politically motivated.
(RFE/RL's Kazakh Service, AP)
The Voting In Images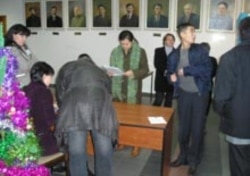 Workers at Almaty polling station No. 310 registering election monitors prior to the opening of voting on December 4


To see more images collected by RFE/RL's Kazakh Service during the voting on December 4,
click here.



RFE/RL's complete coverage and background of Kazakhstan's presidential election on December 4, 2005.