17 January 2006 (RFE/RL) -- Najamudin was one of the Afghan wrestlers competing in front of a large crowd in Spin Boldak just minutes before a suicide bomb attack. Speaking from a hospital across the border in Chaman, Pakistan, Najamudin still appeared to be in shock.
"We were participating in a wrestling contest in the late afternoon," he said. "The competition had just finished and we were changing clothes. While we were dressing, all of a sudden, there was an explosion. It knocked us unconscious."
People in Spin Boldak -- on the main highway between Kandahar and Quetta, Pakistan -- were grappling with the tragedy today. Most shops and businesses were closed. Many people could be seen milling around a 20-square meter crater left by the attack. And the mangled wreckage of a motorcycle thought to have been used by the bomber still lay nearby.
Spreading Fear, And Combating It
Across the country, Afghans are wondering whether such suicide attacks will continue.
Hours before the Spin Boldak blast, another suicide bomber in Kandahar had killed three Afghan soldiers and a civilian. A day earlier, a suicide bomber also killed a Canadian diplomat and two Afghans.
An adviser to Afghan President Hamid Karzai said the aim of the attacks appears to have been to frighten NATO countries, like Canada, that are deploying troops in the volatile south -- as well as to frighten donors meeting in London at the end of January to draw up a new long-term assistance plan.
Karzai said the increase in suicide attacks shows that Taliban fighters and their allies are becoming desperate as living conditions for ordinary Afghans continue to improve in the post-Taliban era.
"As much as possible, the enemies of Afghanistan are trying to stop the development of the country," Karzai said. "But they cannot do it because every day we are moving another step forward. Still, these attacks are raising concerns, killing our people and are causing a lack of security."
A purported spokesman for the Taliban has claimed responsibility for all of the recent suicide attacks in Kandahar Province. However, that claim could not be independently confirmed.
Analysts and some military officials said the rise in suicide attacks reflects an increase in the influence of Al-Qaeda since the presidential election in October 2004.
Imported Tactic?
Abdul Ahrar Romizpour, a professor of law, politics, and human rights at Kabul University, told RFE/RL that it is important to note that suicide bombings did not occur in Afghanistan in the past -- despite decades of conflict.
Romizpour concluded that the current wave of suicide bombings is the result of influence from foreign militants -- including those of Arab origin as well as those within some Pakistani madrasas that have educated young Afghan refugees.
"Most of these [suicide attacks] are, therefore, coordinated and organized from abroad in places where these fundamentalist religious circles advocate such ideas," Romizpour said. "But it can't be ruled out that Afghans are involved -- especially those in traditional fundamentalist areas."
Kandahar Governor Asadullah Khalid rejected the idea that Afghan nationals carried out any of the recent suicide attacks in his province. But Khalid told RFE/RL he agrees that suicide attacks are being coordinated abroad -- most likely, in his opinion, from within Pakistan.
"It is clear that this area has a long border with Pakistan," Khalid said. "And it is also clear that all enemies of Afghanistan live inside Pakistan. They have centers for training suicide bombers. They can easily infiltrate Kandahar [Province]. Afghans don't have the history of suicide bombing. These are all foreigners."
Crude Weaponry
The U.S.-led coalition that is hunting down the remnants of the Taliban and Al-Qaeda fighters across the country said it does not see a trend of Iraq-style suicide attacks in Afghanistan.
Colonel Jim Yonts, a spokesman for the coalition, said the equipment used in most neo-Taliban attacks in Afghanistan is not as complex as the devices being used in Iraq. He said many improvised explosive devices encountered by U.S. troops in Afghanistan either fail to detonate or explode prematurely.
Yonts concluded that the only similarities between attacks in Iraq and Afghanistan are the fact that suicide attacks are being aimed at civilians, religious leaders, and nongovernmental organizations in an attempt to break the will of coalition forces and Afghanistan's emerging civil society.
Sign Of Discontent?
Rassul Khan, a security officer in Kabul, told RFE/RL's Tajik Service today that he thinks the increase in suicide attacks is a result of growing dissatisfaction with Karzai's central government.
"Enemies of the government are increasing," he said. "There are shortcomings in the three armed forces of Afghanistan. In fact, many who work for the government, whether it be civilians or military posts, are not happy with the government. They are not rewarded well and they feel disillusioned. My personal opinion -- and I may be proven wrong -- is that the current policies of the government are not to the benefit of the country and the people. Maybe [in the future] it could be positive."
But many Afghans are convinced that Afghan militants are not carrying out suicide bombings against other Afghans. Kabul resident Joma Gul is among those who see the recent wave of suicide attacks as the work of foreign terrorists.
"I think suicide bombings across Afghanistan are the work mainly of Arabs," Joma Gul said. "At times they are accompanied by Pakistanis."
Faissal, another resident of Kabul, told RFE/RL today that regardless of their nationality, suicide bombers should be condemned as cowards. In his words, if suicide bombers were "real men, they would come out and fight openly."
(Contributors to this report include Reshteen Qaderi in Kandahar and Safia Hasaff in Kabul from RFE/RL's Afghan Service and Farhad Milad in Kabul and Farengiz Najibullah in Prague from RFE/RL's Tajik Service.)
Suicide Attacks In Afghanistan
Suicide Attacks In Afghanistan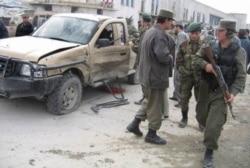 The results of a suicide-bomb attack in Kandahar Province on January 16 (epa)
Suicide bombers have struck more than two dozen times in Afghanistan since neo-Taliban and Al-Qaeda insurgents appear to have stepped up use of such attacks following the provincial and national elections of September 2005. While sporadic until recent months, suicide bombings have killed at least 90 people in Afghanistan since late 2001 -- including the attack in the days leading up to 9/11 that left legendary Afghan mujahedin commander Ahmad Shah Mas'ud dead. For an overview of suicide attacks in Afghanistan dating back to 2001, click here.