The governor of Kandahar province, Asadullah Khalid, said about 1,000 people gathered on 18 January in the border town of Spin Boldak and chanted "Death to Pakistan! Death to al-Qaeda! Death to the Taliban!"
The 16 January bombing killed 21 people.
Afghan officials have repeatedly claimed that militant groups have training bases in Pakistan and are receiving support from that side of the border -- an accusation Islamabad denies.
The United Nations Security Council on 17 January condemned the attacks, saying that no terrorist acts will be able to reverse the path toward peace and reconstruction in Afghanistan.

Suicide Attacks In Afghanistan
Suicide Attacks In Afghanistan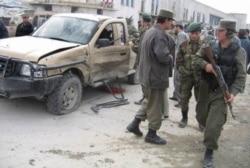 The results of a suicide-bomb attack in Kandahar Province on January 16 (epa)
Suicide bombers have struck more than two dozen times in Afghanistan since neo-Taliban and Al-Qaeda insurgents appear to have stepped up use of such attacks following the provincial and national elections of September 2005. While sporadic until recent months, suicide bombings have killed at least 90 people in Afghanistan since late 2001 -- including the attack in the days leading up to 9/11 that left legendary Afghan mujahedin commander Ahmad Shah Mas'ud dead. For an overview of suicide attacks in Afghanistan dating back to 2001, click here.