Ukraine: Former Prime Minister Rises From The Ashes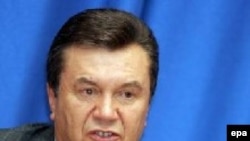 Viktor Yanukovych (epa) Viktor Yanukovych, the man pushed aside by the Orange Revolution, seems to be winning hearts and minds of Ukrainian voters. Recent polls suggest that his party is favored by 31 percent of voters compared to 13 percent of those who support the Our Ukraine bloc led by President Viktor Yushchenko -- the figurehead of Ukraine's reform movement. Yanukovych's reemergence opens up the possibility that Ukraine's upcoming parliamentary elections could result in the former premier leading parliament's strongest faction and place him in a position to once again become prime minister.
18 January 2006 (RFE/RL) -- In a campaign advertisement that figures prominently on Ukrainian television yesterday, Viktor Yanukovych doles out promises and extols the virtues of the party he leads -- the Party of Regions.

"The Party of Regions is ready to lead the country," Yanukovych proclaims in the ad. "We will introduce the Russian language as the second official language in Ukraine. We will lower the income tax. It is high time to end incompetence. Together we will win for the sake of Ukraine."

Andriy Bychenko, head of the sociology department at the Oleksandr Razumkov Center for Economic and Political Studies in Kyiv, says there is no doubt that Yanukovych has reemerged as force to be reckoned with.

"The latest polls, that we took at the end of last year, indicate that the popularity [of Yanukovych] is growing," according to Bychenko. "Polls made by other [pollsters] indicate the same."

However, Bychenko says Yanukovych's newfound popularity is largely due to voters' perceptions that the leaders of the Orange Revolution have failed to live up to the promises that led them to power.

Bychenko says Yuschenko's team has not been successful in fighting corruption, and has failed in its efforts to push economic reforms and attract foreign investment.

Yushchenko has dismissed one of the main leaders of the revolution -- Yuliya Tymoshenko -- for incompetence. The current cabinet, headed by acting Prime Minister Yuriy Yekhanurov, has been dismissed by parliament over a gas deal with Russia. The gas dispute still doesn't seem to be resolved and nothing seems to be stable in Ukrainian politics.

On the other hand, Bychenko says the number of Yanukovych supporters is growing in relative, not absolute terms.

The polls indicate that more and more of Yushchenko's supporters in the western and central regions of the country are inclined to stay away from the elections and are not likely to change their minds unless significant changes occur.

"Former supporters of Yushchenko are engulfed by political apathy because of the conflicts among what was once a united team," Bychenko says. "They have decided to refrain from participation in politics, do not plan to vote -- and this is particularly evident in the central parts [of Ukraine.]"

Russian-Speaking East
Meanwhile, Yanukovych continues to consolidate his supporters. His power base is in Ukraine's Russian-speaking eastern and southern regions, and he tells voters there what they want to hear.

"I have never allowed anti-Russian rhetoric in Ukrainian policy toward such a strategic partner like Russia," Yanukovych says. "This is the first point. I never went against the interests of the Ukrainian state and the Ukrainian people."

Bychenko says Yanukovych's pro-Russian stance is becoming stronger and more distinctly pronounced -- and the analyst believes this is what the Kremlin wants to hear. Bychenko notes that Yanukovych received strong support from Moscow during the 2004 presidential elections -- support that has not faded.

Ihor Losev, a professor at Kyiv's Mohyla Academy, says that Yanukovych's Party of Regions could become the most powerful party in the parliament. Furthermore, Losev says, Yanukovych stands to once again become prime minister.

"If everything continues the same way as it is now, this danger looks likely to come true," Losev says.

Losev also notes that Ukraine's constitutional reforms, which went into effect on 1 January, grant parliament expanded powers -- including the ability to elect the country's prime minister. Previously only the president had the power to appoint prime ministers.

An archive of RFE/RL's reporting and analysis on Ukraine's Orange Revolution.
REVOLUTION IN THE AIR: Listen to an audio portrait of the Orange Revolution from RFE/RL's archives.
Real Audio Windows Media