As Deadline Passes, No Word On Jill Carroll's Fate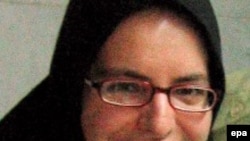 A leading Sunni leader has called for Carroll's release (file) (epa) 20 January 2006 -- A 20 January deadline set by kidnappers threatening to kill U.S. journalist Jill Carroll has passed with no word on her fate.
Carroll's captors said three days ago -- on 17 January -- they would kill her unless female Iraqi detainees were released within 72 hours.
It's not clear whether the prisoners will be freed. Iraqi officials have said they would, but the U.S. says there are no immediate releases planned.
Meanwhile, efforts are continuing to win Carroll's freedom.
Today one of Iraq's most influential Sunni leaders, Adnan al-Dulaimi, publicly called for her release.
(Reuters)