Afghans Rally Against Suicide Attacks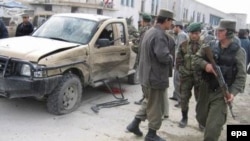 Scene of a suicide attack in Kandahar on 16 January (epa) 24 January 2006 -- Hundreds of Afghans today gathered in Afghanistan's western city of Herat to protest a recent wave of suicide attacks in their country.
Today's protest was the third one in Afghanistan since a suicide bomber killed 23 people in the town of Spin Boldak earlier this month.
Afghanistan has seen a series of suicide attacks since November. Afghan defense officials say foreign Al-Qaeda and Taliban insurgents are behind most of the violence.
U.S. military officials in Afghanistan have said that the recent spate of suicide bombings in Afghanistan reflects the increased desperation of militants seeking to derail the democratic development of the country.
(Reuters)
Suicide Attacks In Afghanistan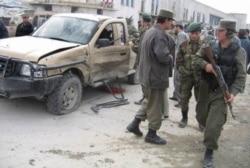 The results of a suicide-bomb attack in Kandahar Province on January 16 (epa)
Suicide bombers have struck more than two dozen times in Afghanistan since neo-Taliban and Al-Qaeda insurgents appear to have stepped up use of such attacks following the provincial and national elections of September 2005. While sporadic until recent months, suicide bombings have killed at least 90 people in Afghanistan since late 2001 -- including the attack in the days leading up to 9/11 that left legendary Afghan mujahedin commander Ahmad Shah Mas'ud dead. For an overview of suicide attacks in Afghanistan dating back to 2001, click here.