Russia Offers To Host International Nuclear Fuel-Cycle Center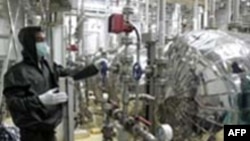 A uranium-conversion facility in the Iranian city of Isfahan (file photo) (AFP) 25 January 2006 -- Russian President Vladimir Putin today suggested that his country host the first of several internationally monitored nuclear fuel-cycle centers.
Addressing a summit of the Eurasian Economic Community in St. Petersburg, Putin said such centers should serve, among other things, to enrich nuclear fuel under the supervision of the International Atomic Energy Agency, the United Nations' nuclear watchdog.
The Russian president said that, in his view, those centers should remain open to all countries "without discrimination."
Russia has offered to enrich Iranian uranium on its soil in a bid to defuse a growing dispute between Tehran and the international community.
Iran today said it was interested in the Russian proposal.
(ITAR-TASS, Interfax)

THE COMPLETE PICTURE: RFE/RL's complete coverage of controversy surrounding Iran's nuclear program.
CHRONOLOGY
An
annotated timeline
of Iran's nuclear program.