New Video Airs Of Kidnapped U.S. Journalist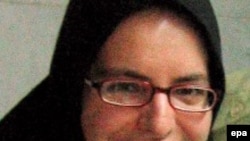 In the new video, American journalist Jill Carroll is wearing a white headscarf and crying (file photo) (epa) 30 January 2006 -- The Arabic-language television station Al-Jazeera has aired a video tape from an Iraqi militant group today, showing a clearly distraught Jill Carroll purportedly appealing for the release of Iraqi women held by U.S.-led forces.
Carroll, wearing a head scarf, is seen crying in the grainy footage that carried a 28 January date stamp and a logo showing the name of the Revenge Brigades militant group.
Her voice is not heard. The Al-Jazeera broadcaster said the audio is of Carroll appealing to the U.S. military and Iraqi authorities to release female Iraqi prisoners.
Armed men abducted Carroll, a freelance reporter for the "Christian Science Monitor," on 7 January in Baghdad and have threatened to kill her unless all Iraqi women prisoners were released.
(Reuters, AFP, AP)