Kyrgyz Security Council Chief Offers Resignation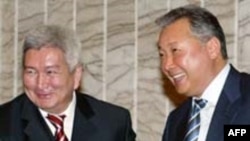 Premier Kulov (left) and President Bakiev disagree over whether Niyazov should resign or not (file photo) (AFP) BISHKEK, 30 January 2006 (RFE/RL) -- Kyrgyz Security Council chief Miroslav Niyazov said today he would submit his resignation as pressure on the country's security officials gathered momentum, RFE/RL's Kyrgyz Service reported.
"I will tell you frankly that I also prepared a letter of resignation and I think the president can examine this issue," he said.
Niyazov's assistant secretary, Vyacheslav Khan, announced on 28 January that he had handed in his resignation, saying he did not want to be a cause for applying pressure on the administration or the Security Council.
Some deputies had accused him of holding Russian and Kazakh citizenship.
Last week, Prime Minister Feliks Kulov and some deputies criticized the work of the law-enforcement agencies, saying they had failed to reign in corruption and allowed criminal elements to influence the work of the government.
Lawmakers unanimously voted for a resolution calling for the resignation of security chief Tashtemir Aitbaev on 26 January, but President Kurmanbek Bakiev rejected the call the following day.
(with material from Kabar, Interfax, ITAR-TASS, AP)
RFE/RL Central Asia Report

SUBSCRIBE For regular news and analysis on all five Central Asian countries by e-mail,
subscribe to "RFE/RL Central Asia Report."