After talks with Kyrgyz Prime Minister Feliks Kulov in the Kyrgyz capital Bishkek, Gazprom CEO Aleksei Miller said Russia will help Kyrgyzstan explore and develop its oil and gas reserves, and modernize its production facilities.
As part of the plan, Miller and Kulov agreed to set up an oil and gas joint venture some time in the first quarter of this year.
Kyrgyzstan is believed to have big oil and gas reserves, but it still largely dependent on energy imports from other ex-Soviet states.
(Reuters, ITAR-TASS)
Central Asia Gas Pipelines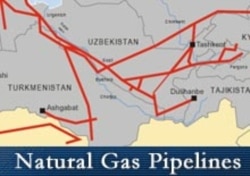 Click on the map for an enlarged image.

Russia's rising appetite for Central Asian gas is a direct result of the shifting fortunes of Gazprom, the state-run Russian company that controls lucrative exports. The company's total gas production has flatlined at around 550 billion cubic meters (bcm) a year. With major fields yielding less as they age, Gazprom has chosen to maintain its all-important gas balance by purchasing gas on the side -- from independent producers in Russia and from Russia's Central Asian neighbors -- instead of investing in the lengthy and costly development of untapped Arctic fields...(more)
See also: