Rubin on the Afghanistan Compact:
This conference will launch the Afghanistan Compact, which is a declaration that sets out the framework for international engagement with and assistance to Afghanistan over the next five years. It takes up where the Bonn agreement left off. The Bonn agreement has now ended with the reestablishment of government institutions in Afghanistan -- with the election of parliament after the election of the president. And this agreement will go on for the next five years to help make those institutions really effective and launch a development program in Afghanistan.
Rubin on the world's commitment to Afghanistan:
It's the first time that the international community has had this kind of formally organized engagement for a total of nine years with a country that was trying to emerge from conflict. And that's partly the result of the lessons, from test cases, that it takes some time to reestablish peace and public order and to start development. One of the reasons that some countries relapse into conflict is that the [international] engagement [is] too short.
Rubin on the compact's specific goals:
This is not just a political agreement. It isn't just about holding elections and establishing a government. That's what the Bonn agreement was about. [The Afghanistan Compact] is really about all dimensions of building a state. It's about security. It's about building up better [governance], the rule of law, and protection of human rights. And it's about economic and social development. And this compact recognizes that these are all interrelated and not one of them can succeed without the other. This compact is not aimed at short-term changes. It's aimed at bringing Afghans greater security. The police are going to be completely reorganized and made more effective so that they protect people rather than abusing them. It has very concrete targets for building roads [and] irrigation works so that farmers have more water. And it supports the Afghan National Development Strategy -- which has a plan for economic development and the reduction of poverty in Afghanistan.
Rubin on Kabul's responsibility:
This is not a plan for the international community giving things to Afghanistan. This is a plan for strengthening Afghanistan and enabling it to assert leadership of its own development. And in return for that it will get international support. There will be measures to provide credit to support small businesses, to generate housing in the urban areas through the use of public lands, for fighting corruption, and all of those things. But those will only be successful if the government really becomes accountable. And Afghan citizens will have to participate.
Rubin on Afghanistan's neighbors:
One of the reasons that some of the neighboring countries are continuing to interfere in Afghanistan is because they think that international involvement will not last that long. And therefore they want to position themselves for a future when the Afghan government may not have that [international] support. This compact shows that there is going to be at least five more years of very significant and direct support for the government of Afghanistan and for the peace process in Afghanistan. So those [neighboring] countries should align their strategy with the international effort.
Rubin on what has been accomplished and what still needs to be done in Afghanistan:
This is not an international donor conference like Tokyo or Berlin. This [event in London] is an international political conference. It's not actually true that the commitments [made at the Tokyo donor's conference in 2002] were not fulfilled. The problem is that these investments take some time. About 13,000 villages have received grants through the National Solidarity Program. A number of roads have been built. But I think in these first four years, there was a lot of need for urgent humanitarian assistance. For feeding people. For returning and settling about 3 million refugees who came back to Afghanistan. There was relatively little permanent infrastructure built like roads, irrigation works, electricity plants, and so on. That's going to be the focus of the next five years.
Rubin concludes:
This compact recognizes some of the problems that have occurred [on aid disbursement]. And it contains a number of requirements for making aid more effective. There is a whole annex to the compact about that. That means that the Afghan government will have to become more efficient and transparent in the way it manages funds. And it will have to mobilize more funds itself. But also, donors are committing themselves that, if the Afghan government does so, they will put more money in through the Afghan government budget. In any case, even if [donor countries] administer the funds themselves they will use more Afghan government contractors, they will make more multiyear commitments, and generally assure that their aid is delivered in accordance with the development priorities of the Afghan government so that it is used more effectively for the development of the whole country.
(transcribed by RFE/RL's Ron Synovitz)
Foreign Minister Abdullah Abdullah
Foreign Minister Abdullah Abdullah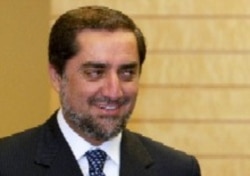 Abdullah Abdullah (epa)


Afghan Foreign Minister ABDULLAH ABDULLAH on January 21 spoke by telephone with RFE/RL Afghan Service correspondent Zarif Nazar. Abdullah discussed the most recent videotaped message from Al-Qaeda leader Osama bin Laden, the current state of the Taliban, terrorist attacks in Afghanistan, and the upcoming London conference on the Afghanistan Compact.
To read the complete interview,click here.