The pledges were made on 31 January at a conference in London on reconstruction and reform in Afghanistan.
The United States promised to provide another $1.1 billion in support to the central Asian country, and Britain promised $805 million.
Representatives of some 70 countries and organizations attending the London meeting have also expressed support for helping implement the new "Afghanistan Compact."
This is a document which sets out a five-year plan for economic and social redevelopment in Afghanistan, including steps to improve security, impose the rule of law, and work towards stamping out illegal opium production and corruption.
(compiled from agency reports)
Suicide Attacks In Afghanistan
Suicide Attacks In Afghanistan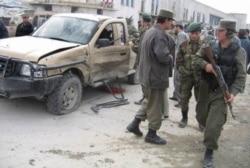 The results of a suicide-bomb attack in Kandahar Province on January 16 (epa)
Suicide bombers have struck more than two dozen times in Afghanistan since neo-Taliban and Al-Qaeda insurgents appear to have stepped up use of such attacks following the provincial and national elections of September 2005. While sporadic until recent months, suicide bombings have killed at least 90 people in Afghanistan since late 2001 -- including the attack in the days leading up to 9/11 that left legendary Afghan mujahedin commander Ahmad Shah Mas'ud dead. For an overview of suicide attacks in Afghanistan dating back to 2001, click here.