Afghanistan: Dutch Lawmakers Debate NATO Deployment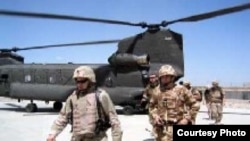 ISAF troops in Zabul Province last year (Courtesy Photo) The Dutch parliament today is debating whether to send more than 1,100 extra troops to Afghanistan's volatile south as part of a NATO-led security force. NATO plans this year to deploy about 7,000 soldiers to southern provinces formerly patrolled by U.S. combat forces. Many NATO troops will be based in isolated mountain areas where fighting continues against the remnants of the Taliban and Al-Qaeda. That has raised concerns in Holland that Dutch forces may be lured into a combat role in Afghanistan. With more than half of Holland's voters opposed to the deployment, the Dutch government wants lawmakers at The Hague to make the final decision.
PRAGUE, 2 February 2006 (RFE/RL) -- The plan to deploy more than 1,100 additional Dutch troops to Afghanistan is part of NATO's wider effort to take over operations in several volatile southern provinces.
NATO spokesman James Appathurai explains how the alliance is leading the UN-mandated International Security Assistance Force into areas previously patrolled by U.S. combat troops. He says NATO hopes to eventually expand across about 75 percent of the country.
"The United States started this operation. And they've pulled back. And they are asking others to fill the gap so that they can fight in Iraq."

ISAF Expansion
"NATO is planning a significant expansion of the NATO-led International Security Assistance Force in Afghanistan from where we are now -- that is, the capital [Kabul], the north, and the west of the country -- [moving] also into to the south. NATO nations have committed to do this. And now we are in the process of generating the forces to go south. The Canadian government will play a major role in this. So will the British government."
NATO currently has about 9,000 troops in Afghanistan. During the next few months, the alliance hopes to send another 7,000 soldiers into the south -- raising the total number of NATO forces to about 16,000.
Canada already has committed to send 2,500 soldiers to a logistical base in Kandahar Province. Britain will have 1,100 soldiers staffing the ISAF headquarters in Kandahar and Kabul.
This week, Britain announced it will send another 3,300 soldiers to the tense southern province of Helmand.
The Danish parliament today approved the deployment of 200 soldiers to help with NATO's expansion into southern Afghanistan.
Australian Foreign Minister Alexander Downer says Australia also is likely to send several hundred more soldiers to assist Holland -- assuming the Dutch parliament approves the deployment.
Indeed, the timing of NATO's planned expansion now depends upon how quickly the Netherlands decides whether to commit additional troops.
Officials Lobbying The Hague
NATO Secretary-General Jaap de Hoop Scheffer -- formerly the Dutch foreign minister -- has urged the lawmakers to approve the deployment quickly.
In London this week, British Prime Minister Tony Blair also said the Dutch deployment is a vital part of NATO's plan. "We want the Dutch to be part of this mission," he said. "That's a decision for the [Dutch] parliament. And now the [NATO] secretary-general has made a very strong appeal. But the reason we should want to be in Afghanistan is for our own security -- not just that of the Afghan people."
Dutch parliamentarians who oppose the deployment argue that their troops would be sent to one of the most active combat zones in the war against the Taliban and Al-Qaeda fighters.
They would be sent to a forward operations base in Tarin Kot -- the capital of Oruzgan Province just north of Kandahar.
Unfriendly Territory
Afghan President Hamid Karzai is from the Tarin Kot area and has supporters there. But the ousted leader of the Taliban -- Mullah Omar -- also is from Oruzgan Province. Western military analysts think Mullah Omar fled into the mountains of the province in late 2001.
Senior U.S. military officials in Afghanistan also have told RFE/RL they think Mullah Omar and hard-line Taliban fighters have received support from some sympathetic villagers in Oruzgan Province.
Indeed, hundreds of Taliban fighters were killed last summer by U.S. and British air strikes just to the east of Tarin Kot. The Taliban fighters had concentrated their forces in an isolated mountain area where the borders of Oruzgan, Kandahar, and Zabol provinces meet.
Brad Adams, the Asia director for the U.S.-based group Human Rights Watch, agrees that Oruzgan and other nearby provinces remain dangerous. But with plans to cut the number of U.S. troops in Afghanistan from 19,000 to 16,500 this year, Adams says the Dutch deployment is necessary.
"It's absolutely proper that there is a very serious debate in the Netherlands about troop deployments," Adams said. "A country shouldn't go in thinking that it's going to be a peacekeeping environment when it's along the Pakistani border where the Taliban is operating and there are Al-Qaeda remnants. The United States started this operation. And they've pulled back. And they are asking others to fill the gap so that they can fight in Iraq. It's good that the Netherlands is going through this process. We hope very much that they will decide to deploy -- but that they will deploy knowing what the risks are and that they will understand they are operating in a very difficult environment."
Hopeful Of Passage
NATO spokesman Appathurai says the alliance is confident about getting the Dutch deployment approved. But if lawmakers reject the plan, he says troops from other NATO countries could fill the gap.
Farah Karimi, an Iranian-born member of Holland's parliament, told RFE/RL today that she thinks lawmakers at The Hague ultimately will approve the Dutch deployment to Oruzgan Province.
"The probability that a positive decision will be taken in that regard has increased in recent days because different parties -- parties that are in coalition with the government and also opposition parties -- have announced that they are very likely to vote [in support of the deployment]," he said. "There has been a lot of pressure on Holland from the NATO, from the United Nations and also from the United States. And this pressure definitely is having a big impact."
Afghan Defense Minister General Abdul Rahim Wardak warned international donors in London this week that NATO troops should be prepared to face attacks by foreign suicide bombers in the south.
His assessment was echoed by a man in Helmand Province who claimed to represent the Taliban. That man, who did not give his name, told a British television channel by telephone on 1 February that NATO will meet resistance from Taliban supporters.
(RFE/RL's Afghan Service correspondent Najibullah Aziz contributed to this report.)
Foreign Minister Abdullah Abdullah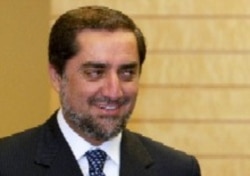 Abdullah Abdullah (epa)


Afghan Foreign Minister ABDULLAH ABDULLAH on January 21 spoke by telephone with RFE/RL Afghan Service correspondent Zarif Nazar. Abdullah discussed the most recent videotaped message from Al-Qaeda leader Osama bin Laden, the current state of the Taliban, terrorist attacks in Afghanistan, and the upcoming London conference on the Afghanistan Compact.
To read the complete interview,click here.