Officials said the White House is seeking $70 billion for the two conflicts for the rest of this fiscal year, and $50 billion more for the start of the fiscal 2007 budget year that begins in October.
The funds for Iraq and Afghanistan are not included in a $439.3 billion defense-spending plan for fiscal 2007 that President George W. Bush is expected to submit to Congress next week.
Officials said the spending plan -- which marks a nearly 5 percent increase over this year's U.S. defense budget -- includes about $84 billion for fighter jets, ships, and other new weapons.
(Reuters, AP)
Security Guarantees For Iran?
Security Guarantees For Iran?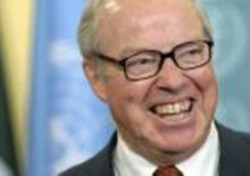 Hans Blix (CTK)

SECURITY GUARANTEES On January 26, RFE/RL Radio Farda correspondent Fatemeh Aman spoke with former UN chief weapons inspector HANS BLIX about the confrontation between Iran and the international community over Tehran's nuclear ambitions. Blix urged the United States to participate in direct negotiations with Tehran and to offer Iran security guarantees that are similar to those being discussed with North Korea...(more)
LISTEN
Listen to the complete interview (about five minutes):

Real Audio
Windows Media

THE COMPLETE STORY: RFE/RL's complete coverage of controversy surrounding Iran's nuclear program.