PRAGUE, 3 February 2006 (RFE/RL) -- Iranian Foreign Minister Manuchehr Mottaki has called the publication of the cartoons an "organized assault" on the Islamic world and has called for an emergency meeting of the Organization of the Islamic Conference (OIC) to deal with the issue.
OIC Secretary-General Ekmeleddin Ihsanoglu stressed that "Islamic nations will not tolerate such insulting acts," and welcomed Mottaki's proposal on holding an emergency session, the Iranian news agency IRNA reported on 3 February.
"As Muslims, we have the big heart to forgive, but that doesn't mean that insulting cartoons about Islam must continue to appear."
Outrage In Iran
In Iran, Grand Ayatollah Moussavi Ardebili has condemned what he described as an insult to Islam's prophet and asked all leaders of Islamic countries and Muslims around the world to stand up to this and to boycott the goods in the countries that have been involved in the insults. "These actions are evil," he said in asking "all Muslims of the world to move in any way possible to stand up to this Satanic acts and make the leaders of blasphemy understand that the price they will pay for these Satanic acts of disrespect will be much higher than their gains," ISNA reported.
Afghan President Hamid Karzai -- who was in Copenhagen on 30 January -- condemned the publication of the cartoons, describing them as an "insult to all Muslims." He said that if such actions reoccur than those responsible should be punished according to the law. Foreign Minster Abdullah Abdullah also condemned them as "an insult to millions of people," the Pajhwak Afghan News reported.
Afghanistan's Information, Culture, and Tourism Ministry said in a statement on 2 February: "We strongly believe in freedom of the press. However, we strongly condemn abuse of freedom of the press that can harm Muslims. It is a cowardly, immoral, and inhuman act."
Danish Explanation
Twelve cartoons that many Muslims find insulting were originally published by the Danish daily "Jyllands Posten" in September.
Danish Prime Minister Anders Fogh Rasmussen appeared on Mideast television channel Al-Arabiya on Thursday (2 February) in an effort to calm tensions in Muslim countries.
"I'm deeply distressed that many Muslims have seen the drawings in the Danish newspaper as a defamation of the Prophet Muhammad. I know that this was not the intention of the newspaper. The newspaper has apologized for that, and I do hope that we can find a solution on that basis."
Rasmussen emphasized that the Danish government does not control the independent media, and that neither the Danish government nor the Danish people should be held responsible for the cartoons.
Almira Adiyatullina, the head of the Islamic women's organization Muslima, told RFE/RL in Kazan: "Some try to explain this by [saying it is because of] democracy in society. But this is another example of the mortal world throwing mud at the Islamic world. It is a global attack on Islam, it must be stopped."
Calls For Reason
A more moderate line of criticism came from religious and government leaders as well as journalists in Central Asia -- particularly Kyrgyzstan, Tajikistan, and Kazakhstan.
Professor Nigmatulla Ajy, the rector of Bishkek's Islamic University in Bishkek, said: "In fact, there is no real picture of the Prophet Muhammad, let alone a caricature. I think every Muslim who sees those pictures, they have to be tolerant, [and] avoid any kind of emotion or violence. But those pictures are humiliating not only to Arabic people, [and the] Arabic world. The Prophet Muhammad was the last prophet who was sent...and all the people have to think about that."
Well-known Kyrgyz journalist Janybek Janyzak, who converted to Christianity, says: "The Western world has great freedom of speech. Even though most people are Christians in the West, they can sometimes make Jesus's caricatures as well. And people consider them with understanding, because they have faith in their soul and nobody can [trample] it. But we know what fanaticism is, don't we? Stalin taught us that if somebody would damage his picture, that person would be killed."
The leader of Tajikistan's Islamic Revival Party, Said Abdollah Nouri, said in a statement that it must not be forgotten that hundreds of millions of Muslims will be highly offended and some might even resort to violence. His deputy, Mohiedin Kabiri, says: "If we talk about dialogue of civilizations and religions then we must not offend each other. These actions do not help mutual understanding. We are hopeful that representatives of Islam and other religions will condemn these actions. But of course there are those hard-liners who may take exception to these and react in a violent way. Of course we condemn any violence as a response but at the same time it would be good if the Western community also condemned these actions as being insulting."
Qironshoh Sharifzoda, a political commentator of the Tajik parliament newspaper "Sadoe mardoom" and a journalism teacher at Tajik State University added: "This [outraged reaction] is in people's nature and there is not as much tolerance in our Eastern countries -- unfortunately -- not as much as there would be in Europe about these issues. Otherwise looked at from the point of view of journalism this was not so serious as to make such a big fuss [about it]."
Murtaza Hajji-Bulutay, is a Kazakh Islamic scholar. He told RFE/RL that: "...Well, this issue has many facets. If we speak from the religious scientific point of view we would surely say that this is an improper event. Our Prophet Muhammad has not left his picture to us. That is why the newspapers' publishing of those caricatures cannot be scientifically proved. That is, of course, a shameful thing. That has nothing to do with religious freedom, freedom of the press or freedom of opinion."
Ongar Hajji-Omirbek is a spokesman for the Kazakh Religious Affairs Department. He commented to RFE/RL:
"...The satirical picturing of our Prophet Muhammad is a mocking of our religion, of our faith. That is not expected from a really educated intellectual person of a civilized world."
Imam Muhammad Rafiq Kamoliddin, from the largely ethnic Uzbek- populated city of Kara Suu in southern Kyrgyzstan, told RFE/RL today: "Islam is a religion of piece. Prophet Muhammad -- may peace be upon Him -- was sent to the world as [God's] messenger, as prophet. There was no evil either in himself, his life and behavior, or in the religion he brought to us. People with no faith and no belief will continue to [draw] this kind of caricatures. The recent one is just another wrongdoing of kufr (eds: nonbelievers)."
In the largely closed society of Turkmenistan there has been no government reaction to the issue, which has reportedly only been reported by RFE/RL's Turkmen Service and Russian television. But one Turkmen resident told RFE/RL that "it is not fair to insult [Muhammad]. We are very sad about the publication of Prophet Muhammad cartoons."
Afghan President Karzai perhaps summed up the feelings of many in the Islamic world today when he said: "As Muslims, we have the big heart to forgive, but that doesn't mean that insulting cartoons about Islam must continue to appear. They must definitely, definitely stop."
Clash Of Cultures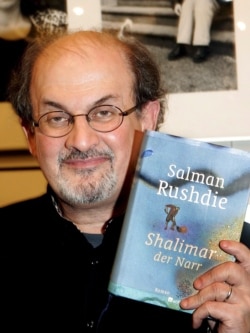 Indian-born writer Salman Rushdie (epa file photo)


The furor raised by the publication in Europe of cartoons believed by many Muslims to be insulting to Islam is far from being the first time that Western notions of freedom of expression have clashed with Islamic sensibilities. Below are a few of the major incidents in this long-running tension.
2005: London's Tate Britain museum removes from exhibition the "God Is Great #2" sculpture by John Latham for fear of offending Muslims, citing the "sensitive climate" after 7 July suicide bombings in London. The sculpture piece consists of three sacred religious texts -- the Koran, the Bible, and the Talmud -- embedded in a sheet of glass.
2004: Dutch filmmaker Theo van Gogh is murdered after release of his film "Submission" about violence against women in Islamic societies. Ayaan Hirsi Ali, a Somali-born member of Dutch parliament who wrote script, plans another film about Islam's attitude to gays. She has also received death threats.
2002: Nigerian journalist Isioma Daniel incenses Muslims by writing in "This Day" newspaper that Prophet Muhammad would have approved of the "Miss World" contest and might have wed a beauty queen. Muslim-Christian riots in northern city of Kaduna kill 200. Daniel flees Nigeria after a fatwa urges Muslims to kill her.
1995: An Egyptian court brands academic Nasr Hamed Abu Zaid an apostate because of his writings on Islam and annuls his marriage on grounds that a Muslim may not be married to an apostate. Abu Zaid and his wife move to the Netherlands.
1994: Taslima Nasreen flees Bangladesh for Sweden after court charges her with "maliciously hurting Muslim religious sentiments." Some Muslims demand she be killed for her book "Lajja" (Shame), banned for blasphemy and suggesting free sex.
1989: Iranian leader Ayatollah Ruhollah Khomeini calls on all Muslims to kill British author Salman Rushdie for blasphemy against Islam in his book "The Satanic Verses."
(compiled by RFE/RL)
See also:
Dutch Immigration -- The Death Of Multiculturalism
Report Says No Anti-Muslim Backlash In Europe
Vienna Conference Ends With Appeals For Understanding, Tolerance
A thematic webpage devoted to issues of religious tolerance in RFE/RL's broadcast region and around the globe.