PRAGUE, 4 February 2006 (RFE/RL) -- In the Muslim world, speaking without thought to consequences and mocking God is seen as fanatical and extremist, and people who advocate such views as dangerous.
But for many Western advocates of unfettered free speech, the Muslim reaction to the cartoon controversy is yet another sign of the intolerance and extremism they see as rampant in the Muslim world. To many Westerners, nothing should be as sacred as the right to express oneself, even if the speech hurts or belittles others.
"I think every Muslim who sees those pictures, they have to be tolerant, avoid any kind of emotions or violence."
Nigmatulla Ajy, rector of the Islamic University in Bishkek.
"None of the cartoons transcends the limits of what we usually say and do in Denmark," said Flemming Rose, culture editor of "Jyllands-Posten," which first published the cartoons. "We make fun of Jesus Christ, we make fun of the royal family, we make fun of politicians, and so on and so forth. And among those 12 cartoons, in fact, one of them is specifically making fun of me and my newspaper, saying we are a bunch of reactionary provocateurs. Another cartoon is making fun of a very famous Danish politician who is critical towards Muslim immigration."
Yet Carsten Juste, editor in chief of the Danish publication, took a different approach from his colleague at "Jyllands-Posten." He tried to end the controversy by apologizing for deepening, or at least exposing, the divide between the Muslim world and the West. And he expressed regret for possibly risking Danish lives.
"If I had known that the lives of Danish soldiers and civilians would be threatened, if I had known that as my finger hovered one centimeter above the Send button for publishing the drawings, would I have hit it? No."
Juste's statements acknowledge the painful fact that exercising some of the freedom Westerners enjoy can have serious repercussions in other parts of the world where such freedoms are not necessarily as protected or revered.
A Recruiting Tool?
Many Muslims argue that respect for religion supersedes free speech. They also argue that making fun of Islam and its revered Prophet, especially at a time when tensions are already high between the West and the Muslim world, risks fueling violence and terrorism.
Egyptian President Hosni Mubarak feared militants would use the cartoons as a recruiting tool and as vindication of their jihad against the West. He felt compelled to issue a formal, written statement warning of the "near- and long-term repercussions [of the] campaign of insults against the noble Prophet." And, he added, "irresponsible management of these repercussions will provide further excuses to the forces of radicalism and terrorism."
RFE/RL's Afghan Service quoted Hamid Karzai, president of Afghanistan, who spoke out against the cartoons at a press conference on 3 February but called upon Muslims to forgive.
"Freedom of the press doesn't mean we have the right to insult people's religions, beliefs and cultures," Karzai said. "We should not have this right either in Afghanistan, or in Europe, or anywhere else. Freedom of the press must be within the principles of tolerance and respect for people's religion, morals, and culture."
Karzai added: "As much as we condemn this, we must have, as Muslims, the courage to forgive and not make it an issue of dispute between religions or cultures."
Former U.S. President Bill Clinton was also worried about increasing tensions between Islam and the West. Speaking at a conference in Doha on 30 January, he warned that the cartoons could work against tolerance and fuel anti-Muslim bias in the West.
"None of us are totally free of stereotypes about people of different races, different ethnic groups, and different religions," Agence France Press quoted Clinton. "So, now, what are we going to do? ... Replace the anti-Semitic prejudice with anti-Islamic prejudice?"
It is clear that many devout Muslims are deeply hurt, offended, and downright livid over what they see as yet another slap at their Prophet and their religion by the West.
Urging Calm
Despite their hurt, some are actively moving to prevent what they fear could be another spate of anti-Western violence in the world.
Islam Online, the U.S.-based religious Internet site, on 3 February carried prominently on its opening page a story with the headline "Danish Muslims Urge Calm After Apology." The story ran on Friday, the Muslim day of prayer when the cartoon issue was being heatedly discussed in mosques around the world. It also ran at a time when tensions were mounting and when there was a fear that anger could spill over into violence. The article quoted Kasem Ahmad, spokesman for Denmark's Islamic Faith Community, as encouraging tolerance and reasonable behavior on both sides.
"We will clearly and articulately thank the prime minister [Anders Fogh Rasmussen] and 'Jyllands-Posten' for what they have done," Ahmad was quoted as saying, even as he urged Danes to have a "more moderate tone" in referring to the Prophet Muhammad and Islam.
On the other side of the globe in Central Asia, RFE/RL's Kyrgyz Service interviewed Nigmatulla Ajy, rector of the Islamic University in Bishkek, Kyrgyzstan, as he spoke to the faithful there. While acknowledging the hurt that Muslims feel over the cartoons, he also called on them to respond reasonably.
"In fact, there is no real picture of Muhammad Prophet, let alone a caricature," he said. "I think every Muslim who sees those pictures, they have to be tolerant, avoid any kind of emotions or violence."
But even as Ajy spoke in Kyrgyzstan, protests were growing in the Muslim world, and many leaders worried that the anger over the cartoons would inevitably strengthen Islamic militants, for whom the cartoons are yet another sign that the West is at war against Islam.
Clash Of Cultures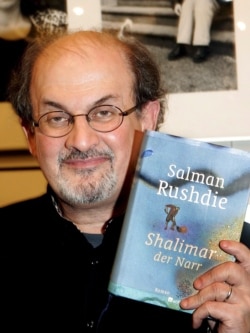 Indian-born writer Salman Rushdie (epa file photo)


The furor raised by the publication in Europe of cartoons believed by many Muslims to be insulting to Islam is far from being the first time that Western notions of freedom of expression have clashed with Islamic sensibilities. Below are a few of the major incidents in this long-running tension.
2005: London's Tate Britain museum removes from exhibition the "God Is Great #2" sculpture by John Latham for fear of offending Muslims, citing the "sensitive climate" after 7 July suicide bombings in London. The sculpture piece consists of three sacred religious texts -- the Koran, the Bible, and the Talmud -- embedded in a sheet of glass.
2004: Dutch filmmaker Theo van Gogh is murdered after release of his film "Submission" about violence against women in Islamic societies. Ayaan Hirsi Ali, a Somali-born member of Dutch parliament who wrote script, plans another film about Islam's attitude to gays. She has also received death threats.
2002: Nigerian journalist Isioma Daniel incenses Muslims by writing in "This Day" newspaper that Prophet Muhammad would have approved of the "Miss World" contest and might have wed a beauty queen. Muslim-Christian riots in northern city of Kaduna kill 200. Daniel flees Nigeria after a fatwa urges Muslims to kill her.
1995: An Egyptian court brands academic Nasr Hamed Abu Zaid an apostate because of his writings on Islam and annuls his marriage on grounds that a Muslim may not be married to an apostate. Abu Zaid and his wife move to the Netherlands.
1994: Taslima Nasreen flees Bangladesh for Sweden after court charges her with "maliciously hurting Muslim religious sentiments." Some Muslims demand she be killed for her book "Lajja" (Shame), banned for blasphemy and suggesting free sex.
1989: Iranian leader Ayatollah Ruhollah Khomeini calls on all Muslims to kill British author Salman Rushdie for blasphemy against Islam in his book "The Satanic Verses."
(compiled by RFE/RL)
See also:
Dutch Immigration -- The Death Of Multiculturalism
Report Says No Anti-Muslim Backlash In Europe
Vienna Conference Ends With Appeals For Understanding, Tolerance
A thematic webpage devoted to issues of religious tolerance in RFE/RL's broadcast region and around the globe.