Russian Lawmakers Criticize Chechen Ban On Danish NGOs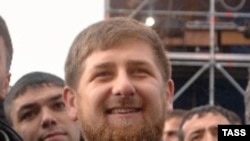 Acting Chechen Prime Minister Kadyrov (file photo) (ITAR-TASS) 7 February 2006 -- Russian lawmakers today criticized a statement by Chechnya's acting prime minister that Danish nongovernmental groups would be banned from Russia's restive republic because a Danish newspaper published controversial cartoons of the Prophet Muhammad.
Boris Gryzlov, the speaker of Russia's State Duma, the lower house of parliament, said he believed Acting Prime Minister Ramzan Kadyrov was expressing his personal opinion, noting that the Chechen government has made no official decision as yet.
"I think such statements should be at least passed through an official governing body first," Gryzlov said. "I view it only as a personal statement."
Pavel Krasheninnikov, the head of the Duma's legislative committee, said the ban would run counter to Russian legislation.
Chechen Deputy Prime Minister Khalid Vaykhanov said on 7 February that the Chechen government has decided to suspend the activities in Chechnya of the Danish Refugee Council, one of the biggest foreign aid organizations in the North Caucasus.
Arne Vaagen of the Danish Refugee Council said the group was reducing its activities pending official notification.
The Danish Refugee Council has been operating in Russia's restive North Caucasus for seven years and says it distributes food to 250,000 people in the region each month.
(ITAR-TASS, Interfax)


RFE/RL's complete coverage of Russia's war-torn Republic of Chechnya.
CHRONOLOGY
An
annotated timeline
of the Chechnya conflict.