Kadyrov's Son Against Renaming Grozny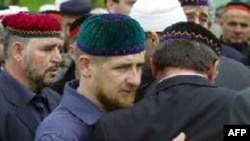 Ramzan Kadyrov at his father's funeral (AFP) 15 December 2005 -- Ramzan Kadyrov has said he opposes a resolution adopted by Chechnya's newly elected parliament to propose renaming the capital Grozny after his father, the pro-Russian President Akhmad Kadyrov, who was assassinated in May 2004.
Kadyrov's statement late yesterday came hours after members of the lower house of parliament, or People's Assembly, said they will ask Russian President Vladimir Putin for permission to rename the city "Akhmatkala" ("City of Akhmad" in Chechen).
Russian news agencies are quoting the younger Kadyrov, Chechnya's first deputy prime minister, as saying the name change is unnecessary. He said the best way to commemorate his father is by rebuilding Grozny, which has been largely destroyed during fighting between Russian forces and separatists since the early 1990s.
(ITAR-TASS/AP)


RFE/RL's complete coverage of Russia's war-torn Republic of Chechnya.
CHRONOLOGY
An
annotated timeline
of the Chechnya conflict.