PRAGUE, 7 February 2007 (RFE/RL) -- The destruction of the Danish embassies in Damascus and Beirut in recent days has made for dramatic television footage. But the real damage to Danish interests may be far more costly, if far less spectacular.
Astrid Gade Nielsen, the spokeswoman for Denmark's Arla Foods, the second-largest dairy-products firm in Europe, says the boycott of Danish products across the Middle East has been a disaster for her firm.
"We have built up our business over the past 40 years," she says. "And within five days, our business came to a complete stop."
Arla sells products worth $500 million a year in the Muslim world, mostly butter and cheeses. "It is a substantial amount of our sales," she says, but "more importantly, the Middle East is a strategic area for Arla Foods, and we have just recently decided to invest in a further expansion of our business there."
Now, though, "we sell no products whatsoever in any country in the Middle East."
In a further escalation, Tehran on 6 February announced that it is cutting all trade ties to Denmark, which exports some $280 million worth of goods to Iran each year. In addition, Bahrain's parliament on 6 February urged all Arab countries to boycott Denmark.
Tehran's move will not affect Arla, which does not operate in Iran. But other Danish executives fear the cartoon row could morph into an all-out war against Danish businesses.
Charlotte Simonsen, the spokeswoman for the Danish toy-maker Lego, says Lego's products have already been taken off the shelves of stores in Qatar, Kuwait, and the United Arab Emirates.
She said that Danish firms are "of course" concerned about the boycott, "but the violence, and the loss of lives right now, is very much in the minds of people."
For Anne Villemoes, the spokeswoman for Danish Crown, which exports chicken to the Middle East, "the main concern is a situation where we see how different cultures react to different things. And that means that we as a company now have chosen to sort of hold our breath and wait for a diplomatic solution."
That may be some time in coming, as some analysts say it remains unclear to what extent some governments may be encouraging the protests for their own political ends.
Neil Partrick, a Middle East analyst with the Economic Intelligence Unit in London, says "the whole issue has presented an opportunity for a number of governments in the region to try and deflect pressure in a number of ways. There has been this very strong suggestion, for example, that the Syrian government may have been doing something similar."
Partrick was referring to accusations by U.S. officials that the Syrian authorities effectively allowed protesters to attack the Danish Embassy in Damascus in order to divert international attention away from Syria's alleged complicity in the murder of the former Lebanese prime minister Rafik Hariri. Syria is currently under intense pressure to cooperate with the United Nations' investigation into Hariri's assassination in February 2005.
Partrick says Iran too may want to use the cartoon row, in its case in order to weaken the international focus on its controversial nuclear program, which the West suspects is aimed at developing nuclear weapons.
Crowds in Tehran on 6 February pelted Denmark's diplomatic mission with petrol bombs and rocks, and a small group tried to break into the building before being stopped by police.
But, says Partrick, "it isn't just about international relations, of course; it's also about an internal context."
There is, he believes, "genuine grassroots anger. And the governments say to themselves, 'Do we really want to be seen to be in a position where we're using violence against people protesting something which the great mass of their people feel very strongly about?'"
That anger against Denmark and the growing number of Western countries whose newspapers have reprinted the cartoon resulted on 7 February in more clashes.
In Afghanistan, as many as four people were reported killed when demonstrators stormed a base in the northwestern town of Maymana that housed a contingent of Norwegian soldiers serving with the NATO-led International Security Assistance Force. The cartoons have also appeared in a Norwegian publication.
The Cartoon Controversy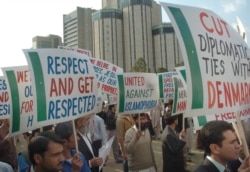 Islamabad residents protesting against the Prophet Muhammad cartoons on February 15 (epa)


An Unfolding Conflict
19 February 2006: A full-page apology by "Jyllands-Posten," dated 5 February, appears in papers in Saudi Arabia. Churches in Libya, Nigeria, and Pakistan are attacked, as too is the U.S. Embassy in Indonesia.
18 February: Forty-five die in Nigeria as churches, hotels, and shops are torched in a predominantly Muslim northern state. Roberto Calderoli resigns from the Italian cabinet after being blamed for riots in Libya that ended with the destruction of the Italian Embassy and the loss of 10 lives. The Libyan interior minister and local police chiefs are sacked for using disproportionate force to quell the riots.
17 February: Ten Libyan protestors are killed during a demonstration that culminates with the burning of the Italian Embassy in Tripoli. Protestors link the demonstrations to the decision of an Italian minister to wear T-shirts showing the cartoons.
16 February: The Russian media watchdog pledges to take a tough line against any organization accused of "insulting religious feelings."
15 February: The Danish government says the Iraqi government wants Danish troops to remain. A far-right Italian minister, Roberto Calderoli, says he plans to wear T-shirts emblazoned with some of the "Jyllands-Posten" cartoons. In Pakistan, three more protestors are killed, one in Lahore and two in Peshawar, as tens of thousands demonstrate.
14 February: Pakistani police shoot dead two protesters in Lahore. In Iran, crowds attack the British and German embassies. Political leaders in the southern Iraqi city of Al-Basrah call for Danish troops to leave the country. In Israel, a cartoonist launches a competition for the best anti-Semitic cartoons by Jews themselves. In Europe, the Portugese president of the European Commission, Jose Manuel Barroso, promises support for Denmark and the democratic system in a dispute that reminds him of his country's dictatorial past.
13 February: A leading Iranian newspaper, "Hamshahri," invites cartoons about the Holocaust in a competition aimed at testing the limits of free speech in the West.
12 February: Intelligence reports suggest Danes in Indonesia are under threat. Denmark urges its nationals to leave the country. It had previously made similar appeals to Danes in many Muslim countries.
10 February: Thousands of Malayans protest, as Western and Muslim political, cultural, and religious leaders gather to discuss differences between the Western and Muslim worlds.
9 February: The Swedish government forces offline a website that asked readers to submit their own cartoons of the Prophet Muhammad.
8 February: Security forces open fire on protestors in the Afghan city of Qalat, killing four, on a day of angry and sometimes violent scenes around the world. Washington accuses the Syrian and Iranian governments of inciting violence.
7 February: Iran's largest newspaper invites cartoons of the Holocaust, saying it wants to test the limits of Western freedom of expression.
6 February: Widespread unrest over the cartoons reported in Afghanistan. One person was reported killed and four wounded in Laghman Province.
6 February: UN Secretary-General Kofi Annan expresses "distress" over the publication of the cartoons, but condemns the violent reactions in the Muslim world.
5 February: The Danish Consulate in Beirut, Lebanon, is torched.
4 February: Mobs burn the Danish, Swedish, Norwegian, Chilean embassies in Syria. Protests in Denmark turn violent.
1 February: Papers in France, Germany, Italy, and Spain run reprints of the cartoons in a show of solidarity.
30 January: The EU says it will take World Trade Organization (WTO) action if the boycott persists. Several Islamic groups, including Hamas and the Egyptian Muslim Brotherhood, call for a worldwide boycott of Danish products. Masked gunmen in storm EU office in Gaza. The Danish paper apologizes.
29 January: "Jyllands-Posten" prints a statement in Arabic saying the drawings were published in line with freedom of expression and not a campaign against Islam. Palestinians burn Danish flags and Libya announces it will close its embassy in Denmark.
28 January: The Danish company Arla places advertisements in Middle Eastern newspapers to try to stop boycott of its products.
27 January: Thousands denounce the cartoons during Friday prayers in Iraq.
26 January: Saudi Arabia recalls its ambassador to Denmark and initiates a boycott of Danish goods.
10 January 2006: The cartoons are reprinted by the Norwegian newspaper "Magazinet."
14 November: Jamaat-e-Islami, a Pakistan-based group, protests in Islamabad.
20 October: Ambassadors of 10 Muslim countries complain to Danish Prime Minister. "Jyllands-Posten" reports that illustrators have received death threats.
30 September 2005: The Danish newspaper "Jyllands-Posten" publishes 12 cartoons of the Prophet Muhammad.
(compiled by RFE/RL)
See also:
Former Jailed Iranian Cartoonist Discusses Muhammad Caricatures
Western, Eastern Media View Cartoon Crisis As Test Of Values