LONDON, 8 February 2006 (RFE/RL) --- In all, the jury at London's Central Criminal Court found Abu Hamza al-Masri guilty on 11 out of 15 charges. That was enough to earn him seven years behind bars.
But the preacher, who has been defiant throughout the proceedings, showed no sign of repentance.
His lawyer, Muddassar Arani, made this statement to the media on Abu Hamza's behalf on 7 February:
"Sheik Abu Hamza considers himself to be a prisoner of faith, and he is subject to slow martyrdom. We confirm that we will appeal the conviction."
Fiery Sermons
Abu Hamza gained notoriety for his fiery sermons at London's Finsbury Park mosque, which the prosecution said he turned into a center of extremism. The jury listened to the recordings of some 20 hours of his exhortations to worshippers at the mosque, including his urging the killing of all non-Muslims. He called for the annihilation of all Jews and termed the 11 September 2001 terrorist attacks on the United States a Jewish plot. During his sermons, he also urged young men go to train as terrorists in Afghanistan.
As Abu Hamza starts his jail term, many mainstream Muslim leaders in Britain say they are happy to see him finally vanish into obscurity.
"[Abu Hamza's] views and views of others about jihadism and Salafism have no support here, and one hopes that people will get the message," Ghayasuddin Siddiqui, director of the Muslim Institute and the head of the Muslim Parliament in Great Britain, says. "We knew that his views were those of a handful of his supporters. The Muslim community never shared his obsession with terrorism and extremism."
As to what kind of a person Abu Hamza is, Siddiqui says he only met him once briefly and his impression then was of a very arrogant, unpleasant man.
Road To Extremism
Abu Hamza, 47, was born in Egypt as Mostafa Kamal Mostafa. He came to the United Kingdom in the 1970s, and, though reportedly not a strict Muslim then, he started showing interest in the extremist cause.
He then went to Afghanistan, where he lost both hands and an eye in an unexplained explosion, and is often pictured with a hook on his right arm.
In 1980 Abu Hamza returned to Britain and, after marrying a British citizen, obtained a British passport. In the early 1990s, he lived in Bosnia, with an identity document under the name of Adam Eaman.
But it is his activities as a preacher at the Finsbury Park mosque in London that brought him the notice first of the British press and finally his arrest in 2004.
The Center Of A Network
Experts say that the mosque became a center of a Europe-wide network of Islamist extremism. Well known terrorists, such as Richard Reid, the shoe bomber; Feroz Abbassi, Zacarias Moussaoui; Abu Qatada; and Al-Liby visited regularly.
In one police search of Abu Hamza's office at the Finsbury Park mosque in 2003, officers found a number of copies of a terrorist manual.
The terrorist encyclopedia includes lessons on bomb making, machine guns, assassinations, and other terrorist activities. It was part of a haul of hundreds of false passports, stun guns, CS-gas canisters, a chemical suit, and imitation weapons that was also found.
The charge of possessing a terrorist manual featured prominently in Abu Hamza's trial and in prosecution arguments for a tough sentence. But defense lawyers said the document was harmless and recognized as such by the police.
"We confirm we cannot understand why the jury have found Sheik Abu Hamza guilty of possessing the 'Encyclopedia Of Afghani Jihad,' considering that the police officers returned this back to him in 1999," defense lawyer Arani told reporters on 7 February.
Not A Top Priority
British media often ask why Abu Hamza was not arrested earlier for his activities at the mosque.
Paul Wilkinson is the chairman of the Center for the Study of Terrorism and Political Violence at the University of St. Andrews. He says the police at the time were more worried about the Real IRA terrorists from Northern Ireland. Islamic extremists, including Al-Qaeda, were not the top of their list of priorities.
"The Al-Qaeda group, which have been active in the Middle East for some time, was not really given priority, and I think in retrospect Britain and a number of other European countries and the United States underestimated the danger," Wilkinson says.
Wilkinson says the assumption then also was that Al-Qaeda would wage its campaigns abroad. This could be why the manual was returned to Abu Hamza, as between 1997 and 2003 the MI5 secret service visited him seven times.
His arrest in 2004 came after a search of Abu Hamza's flat yielded some 3,000 audiocassettes and 600 videos of his sermons. The action followed an earlier American request for his extradition on 11 terrorism charges, including a link to the 1997 case of the kidnapping and killing of hostages in Yemen.
What Lies Ahead?
Is Abu Hamza's imprisonment going to make him more careful or change his views? Most experts do not think so, Wilkinson says.
"From the kind of statements he's made and the propaganda that he's put out, he is not going to change his views," Wilkinson says. "He will remain a fanatical supporter of Al-Qaeda, and therefore whenever he has the opportunity, I am sure, he will revert to that."
Wilkinson says that Abu Hamza could be released after serving half his sentence, having already spent 18 months in prison. He could then be promptly rearrested and extradited to the United States. Abu Hamza's lawyer has said his client would fight such extradition.
Islam In A Pluralistic World
Islam In A Pluralistic World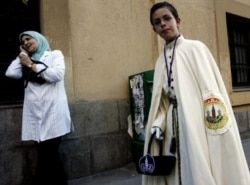 A Muslim woman (left) watches a Christian procession in Madrid in March (AFP)


READ
CONFERENCE ON ISLAM:
A major international conference on Islam concluded in Vienna in November 2005 with strong appeals from prominent Muslim leaders to recognize international terrorism as simply "terrorism." Political figures from Islamic countries, including the presidents of Iraq and Afghanistan, argued that it should never be labeled "Islamic" or "Muslim" terrorism because Islam is based on peace, dialogue, and tolerance. "Salaam" -- meaning "peace" -- was the key word of the three-day conference, titled "
ISLAM IN A PLURALISTIC WORLD
."
Iraqi President Jalal Talibani and Afghan President Hamid Karzai used the word in their remarks to emphasize the peaceful nature of Islam. Other speakers quoted passages from the Koran to the effect that all men and women, regardless of faith, are creatures of God and should live in peace with each other without discrimination
...(more)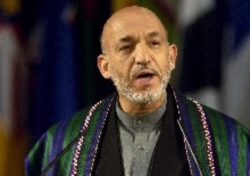 LISTEN
Listen to Afghan President
HAMID KARZAI
's complete address to the Vienna conference (in English):
Real Audio
Windows Media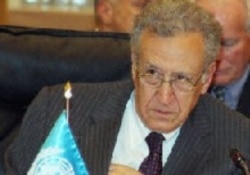 LISTEN
Listen to UN special envoy
LAKHDAR BRAHIMI
's complete address to the Vienna conference (in English):
Real Audio
Windows Media
THE COMPLETE PICTURE:
Click on the image to view a thematic webpage devoted to issues of religious tolerance in RFE/RL's broadcast region and around the globe.