Fashion Designers Praise Kazakh Athletes In Turin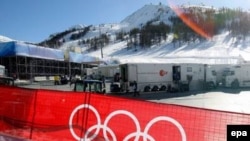 Ski piste used in the Winter Olympics (epa) 13 February 2006 -- Top fashion designers Dolce & Gabbana voted the Kazakhs the most stylish team to parade at the Winter Olympics opening ceremony in Turin.
The designers wrote in the Italian daily "La Stampa") hat the Kazakh athletes were "so stylish" in their black coats and Borsalino hats.
The French were fanciest, the Russians looked "all Christmas" in white jackets, and the Italians were "glamorous."
Dolce & Gabbana wrote that the "kitchiest" were the Chinese with long jackets that made them look like "sandwiches."
The Germans' tangerine and lime outfits were dubbed an "overdose of vitamin C" and the U.S. team's "flabby berets" looked like "upside-down underwear."
(Reuters)
RFE/RL Central Asia Report

SUBSCRIBE For regular news and analysis on all five Central Asian countries by e-mail,
subscribe to "RFE/RL Central Asia Report."