KABUL, 13 February 2006 (RFE/RL) -- ISAF's commanding officer, Italian General Mauro Del Vecchio, says the move to the south by will be "sensitive and delicate."
During the next year, ISAF plans to deploy 6,000 troops into southern Afghanistan. They will be staffing bases for at least four joint civilian-military Provincial Reconstruction Teams (PRTs) in the south. In some areas, ISAF will outnumber the combat troops of the U.S.-led Operation Enduring Freedom.
"We need now forces in these provinces, international forces that will enable the Afghan government to extend its authority progressively in the various provinces where there are serious problems." -- EU representative

But General Del Vecchio insists that ISAF troops do not want to engage in combat against the remnants of the Taliban and Al-Qaeda. As a result of objections by France, Germany, and other European allies, ISAF will limit its work with Operation Enduring Freedom to a support role. Still, the two operations have a joint U.S. commanding officer. Depending on the mission, that commander answers either to ISAF or to U.S. Central Command.
Del Vecchio tells RFE/RL that ISAF is preparing to stay in Afghanistan for as long as 10 years -- provided that the UN Security Council continues to extend its mandate. He says ISAF is needed for another decade because it will take about 10 years before the fledgling Afghan National Army reaches 70,000 fully trained troops.
"The ISAF operation -- the ISAF mission -- probably will remain here in Afghanistan for seven to 10 years. The reason of this presence is linked, of course, to the preparation of the dispersion of the capacity of the Afghan [National Army across the country]," Del Vecchio says.
Currently, the Afghan National Army has about 30,000 fully trained men. Del Vecchio says training for those forces has been "very good." But he says the Afghan army is still far from being able to control security across the country without help from ISAF.
One NATO officer told RFE/RL that the Afghan National Army and police participate alongside ISAF in about 25 percent of the 600 patrols made by the international force each week.
ISAF PRTs also will soon become more involved in training local police and security forces. The United States already has embedded trainers in each unit of the Afghan National Army. ISAF hopes to do the same. So far, ISAF has lacked the funds and staff needed for such training missions. But it expects money and manpower to become available as expansion into the south unfolds.
Setting Up In Kandahar
ISAF troops are expected to be fully deployed at two PRTs, in Kandahar and Helmand, by July. Canadian ISAF troops already began moving to Kandahar from a base in Kabul in September. Australia and four European countries in NATO also are sending troops to the south: Great Britain, the Netherlands, Denmark, and Estonia.
The European Union, one of Afghanistan's largest aid donors, is closely monitoring developments. The EU considers stability and security in Afghanistan a vital issue. One reason is that Afghan drug lords produce about 80 percent of the heroin that is sold illegally in Europe.
Fransesc Vendrell, the EU's special representative for Afghanistan, tells RFE/RL that he has been lobbying EU countries to contribute as many troops as possible to the ISAF mission.
"So, the issues of security, governance, human rights, and reconstruction are all linked together" Vendrell says. "And we need now forces in these provinces, international forces that will enable the Afghan government to extend its authority progressively in the various provinces where there are serious problems."
Direct EU Involvement More Likely
Vendrell also says the EU is increasing its own direct involvement in Afghanistan. "There is a second possibility which is only now been approved -- just now -- and is not happening yet," he says. "This is the possibility of channeling some [European] Commission money to a Provincial Reconstruction Team for use by the PRT in their own civil-military projects."
The four European NATO countries involved in the southern expansion of ISAF have all agreed to do so without "caveats." NATO officials use the term caveat to describe restrictions that different countries place on military action by their forces The ISAF command often has to contact the political leadership of different countries to gain access to their troops or assets in Afghanistan. Restrictions usually involve anything from specific "rules of engagement" to details about whether helicopters can carry Afghan personnel.
Other details about funding also have become an issue as ISAF's expansion into the south moves forward. British troops plan to leave Mazar-e Sharif in March. They will hand over the PRT in the northern city to Swedish troops and a base at Mazar-e Sharif's main airfield to Norwegian troops.
But London also wants to take most of the related NATO funds with it to develop the Kandahar airfield, a major logistical and supply base in southern Afghanistan.
This has rankled Germany, which already has spent 40 million euros ($48 million) on new facilities at Mazar-e Sharif and needs another 30 million euros to complete that project.
NATO's civilian representative for Afghanistan, Hikmet Cetin, tells RFE/RL that he hopes the alliance will make a formal decision on Stage Four, a further expansion of ISAF into eastern Afghanistan, before the end of this year.
"After Stage Three what you need [is] a political decision," Cetin says. "Because the United States will stay in Stage Four and at that point NATO will have to take a political decision. And the sooner the better, I would say, because you cannot make too much separation between the east and the south [of Afghanistan]."
NATO military officials have expressed some doubts about whether a decision can be formalized this year on expanding ISAF into eastern Afghanistan.
Suicide Attacks In Afghanistan
Suicide Attacks In Afghanistan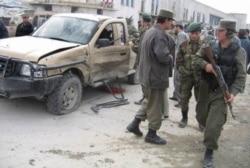 The results of a suicide-bomb attack in Kandahar Province on January 16 (epa)
Suicide bombers have struck more than two dozen times in Afghanistan since neo-Taliban and Al-Qaeda insurgents appear to have stepped up use of such attacks following the provincial and national elections of September 2005. While sporadic until recent months, suicide bombings have killed at least 90 people in Afghanistan since late 2001 -- including the attack in the days leading up to 9/11 that left legendary Afghan mujahedin commander Ahmad Shah Mas'ud dead. For an overview of suicide attacks in Afghanistan dating back to 2001, click here.