PRAGUE, 15 February 2006 -- The nonbinding resolution, which Georgia's 225-seat parliament passed by a vote of 179 to zero, calls upon the government to review the 1992 Georgian-Russian agreement ending the 18-month war between Tbilisi and South Ossetia. It also calls upon the Georgian executive to ensure that the Russian peacekeepers are replaced with an international force.
The resolution gives the government no deadline. A motion submitted by opposition lawmakers and calling for the immediate withdrawal of Russian troops was not approved.
Peacekeepers Or Threat?
The so-called Sochi agreement was signed in June 1992 by Boris Yeltsin and Eduard Shevardnadze, then the presidents of Russia and Georgia, in the Black Sea village of Dagomys. It called for the deployment of Russian, Georgian, South Ossetian, and North Ossetian peacekeepers, which were deployed in the region three weeks later.
"A request for the peacekeepers to leave without anything in their place may be destabilizing." -- U.S. ambassador

The joint peacekeeping force has a theoretical strength of 2,000, with 500 troops from each side -- and its mandate has been regularly extended on a consensual basis.
Like its Russian-led counterpart in Abkhazia -- Georgia's other breakaway republic -- South Ossetia's peacekeeping force has no international mandate, even though its activities are monitored by the Organization for Security and Cooperation in Europe (OSCE). The OSCE is also helping in the Georgian-South Ossetian peace talks.
Georgia claims the Russian troops represent a threat to its national security. Officials in Tbilisi say Russian peacekeepers are supplying separatist forces with weapons and ammunition in violation of demilitarization agreements. They also accuse them of threatening the lives of Georgian citizens living in the conflict zone, carrying out sabotage raids against Georgian targets, and taking an active part in smuggling operations to and from South Ossetia.
Regular Provocations
It's not yet clear how today's vote will be received in Moscow. But referring to an incident last week in which Georgia detained three Russian soldiers on charges of violating visa regulations, Russian Foreign Minister Sergei Lavrov today clearly indicated that Moscow is running out of patience.
"What's happening [in Georgia] around the Russian peacekeepers goes beyond all limits," he said. "Facts are being ignored, distorted, and altered. In violation of all existing agreements, our peacekeepers regularly face provocations. [Georgia] is now demanding that they carry visas, which never happened before. Our peacekeepers have always been stationed [in South Ossetia] precisely in the capacity of peacekeepers. They have a mandate of the CIS that is supported by the OSCE."
Following Lavrov's remarks, Georgian parliamentary speaker Nino Burdjanadze said the joint peacekeeping force did not, in fact, have a CIS mandate.
Strained Relations
Relations between Russia and the government of Georgian President Mikheil Saakashvili have gradually deteriorated since Tbilisi sent troops to South Ossetia in the summer of 2004, triggering a series of deadly armed clashes. Despite Saakashvili's claims to the contrary, Moscow suspects the Georgian leader is considering forcibly reasserting his control over South Ossetia and Abkhazia.
Addressing reporters on 14 February, Russian State Duma Deputy Speaker Lyubov Sliska called on Georgia to show restraint and not make any hasty moves.
"We understand the Georgians are a very passionate people," she said. "But we wouldn't like this passion to [create] a very unpleasant conflict that would be very difficult to settle and which no peacekeepers would be able to help with. I'm not making any threat. I'm just saying that [the Georgians] should not bring to the boiling point processes that could be solved by more peaceful means."
Vladimir Vasilev, the chairman of the State Duma's Security Committee, described as risky the Georgian parliament's insistence that Russian troops should be withdrawn.
"That it is a step toward destabilization is obvious because there are international procedures and working regulations that say when this type of agreement needs to be worked upon and examined by all contractual parties," Vasilev said.
South Ossetian President Eduard Kokoity today told RFE/RL's North Caucasus Service that although Georgian lawmakers have the right to vote through any resolution they deem necessary, he believes Tbilisi has no right to unilaterally review the Sochi agreement. He warned that the forced departure of Russian troops could lead to open confrontation.
"We're ready for such developments, and South Ossetia's armed forces are ready to resist any [aggression]," Kokoity said. "We're aware of the existing imbalance of [military] forces, but we will defend our land in any case."
In remarks made ahead of today's vote, Georgian Minister for Conflict Resolution Giorgi Khaindrava said the executive would overcome all legal obstacles and implement the parliamentary resolution. The government has no obligation to abide by the parliament's decision and its members have sent conflicting signals on how they believe the issue of Russian peacekeepers should be solved.
Addressing the Permanent Council of the OSCE on 9 February, Foreign Minister Gela Bezhuashvili said the joint peacekeeping force should include Russian and Georgian troops only. Other Georgian officials have said they would like Ukraine, with whom Tbilisi has friendly relations, to participate in the peacekeeping mission.
Addressing parliament on 14 February, Saakashvili denounced foreign attempts to "annex" part of Georgia. But apart from this reference to today's parliamentary resolution, he did not touch upon the issue of Russian peacekeepers. Saakashvili also sent Moscow a veiled warning, saying anyone who threatens Georgia with force risks "getting a punch in the face."
The United States has urged Tbilisi to proceed with caution in reaching a decision on the future of Russia's peacekeeping mission in South Ossetia. U.S. Ambassador Julie Finley last week told the OSCE Permanent Council that "a request for the peacekeepers to leave without anything in their place may be destabilizing."
Georgian officials have played down the U.S. warning. Kote Gabashvili, who chairs the parliament's Foreign Affairs Committee, said he believed Finley was expressing the views of a "friend" of Georgia, and that her statement should not be misinterpreted.
(RFE/RL's North Caucasus Service correspondent Murat Temirov contributed to this report.)
Soros's Remarks To The UN
Soros's Remarks To The UN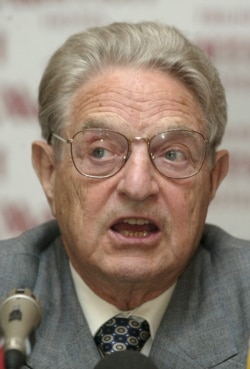 On 13 December, philanthropist GEORGE SOROS addressed a special plenary session of the UN General Assembly devoted to the implementation of the UN's Millennium Plan for Tajikstan and described the work that his foundation is doing in that country.
Listen to Soros's complete presentation (six minutes).
Real Audio Windows Media