PRAGUE, 15 February 2006 (RFE/RL) -- Afghan President Hamid Karzai says his talks this week with Pakistan's President Pervez Musharraf will focus on a recent wave of suicide bombings in Afghanistan.
Karzai arrived in Islamabad today for a two-day official visit amid repeated accusations from Kabul that "elements in Pakistan" have planned, organized or supplied most of the 15 suicide bomb attacks in Afghanistan since November.
"The main point [of Karzai's visit to Islamabad this week] is securing peace and stability in relations between these two countries."
Straight Talk
"I'm going to Pakistan especially to talk with the president of Pakistan and the government there about the issue of terrorism," he said. "I will talk to them about these bombings going on in places like Kandahar, Paktia Province, Khost, and Mazar-e Sharif."
RFE/RL Afghan analyst Amin Tarzi says relations between Kabul and Islamabad have suffered as a result of bombings and violent demonstrations that Kabul has blamed on "elements within Pakistan."
"Observers view [relations] between Islamabad and Kabul as the lowest they have been since the demise of the Taliban in late 2001," he said. "Afghanistan is accusing Pakistan of either supporting the neo-Taliban and other militants or at least not doing enough to stop the infiltrations. On the other hand, Pakistan is openly critical of Afghanistan's relationship with India -- namely, allowing India to bring its forces, about 400 of them, for protection along the border between Afghanistan and Pakistan. And also, now, they are accusing Afghanistan of supporting separatist and rebellious movements inside of [Pakistan's border province of] Balochistan."
Indeed, Pakistan's core foreign-policy issue is its decades-old rivalry with India. The flowering of trade, aid, and diplomatic relations between Kabul and India appears to be making Pakistani officials suspicious.
Terrorism The Key Issue
But it is the wave of suicide bombings in the last three months -- most claimed by the Taliban -- that has fuelled the accusations from Kabul that Islamabad is not doing enough to stop Pakistani-based militants from crossing into Afghanistan to carry out terrorist attacks.
Joanna Nathan is a Kabul-based researcher for the International Crisis Group. She says: "It's pretty clear that the ongoing insurgency in Afghanistan is sustained by the fact that they get a lot of cross border support [from elements in Pakistan]. The top leadership [of the Taliban] lives in Pakistan. Of course, a lot of the training obviously takes place in Pakistan. And the border is fairly porous. So people can come and go and then seek the sanctity of an international border line."
Nathan notes that the recent wave of suicide bombings in Afghanistan appears to have links to some of the more radical Islamic religious schools -- known as madrasahs -- in Pakistan.
"I'm sure Karzai would like to see some commitments from Musharraf to shutting down both this border, which is very porous, and also some of the madrasahs and extremist centers in the border areas where these ideas [for suicide attacks] are coming from," she said. "Karzai alone won't be enough. What we really need to see is some substantial international pressure going on Musharraf here to close down both the schools where these ideas come from and also the ability to so easily cross to and fro."
Pakistan's Issues
But Pakistani political analysts say Islamabad is constrained by internal and external considerations when it comes to fighting the Taliban. Islamabad risks alienating both Afghan and Pakistani Pashtuns if it launches military crackdowns in the conservative tribal regions near the border, where many sympathize with the Taliban.
Pakistani analyst Hasan Askari Rizvi says the alliance of conservative Islamist parties that govern Pakistan's North West Frontier Province also would be enraged by military action there against Afghan Islamists.
Afrasaiab Khtak is a human rights campaigner and an political analyst at Peshawar in Pakistan's Northwest Frontier Province.
"The main point [of Karzai's visit to Islamabad this week] is securing peace and stability in relations between these two countries," he said. "During these talks, it is important that they focus on strengthening economic and cultural ties as well as political cooperation."
Some events on Karzai's schedule suggest he will be attempting to do that. The Afghan president is scheduled to meet with Pakistani entrepreneurs and investors to try to encourage investment in Afghanistan.
Some members of Karzai's cabinet, provincial governors, and a small parliamentary group also are on the Afghan delegation.
Karzai plans to meet with Pakistani Prime Minister Shaukat Aziz on 16 February. He also plans to speak at Pakistan's National Defense College about the regional dimensions of stability in Afghanistan.
Helmand Province Governor Comments
Helmand Province Governor Comments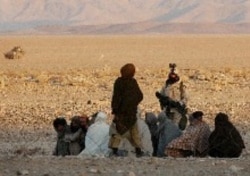 U.S. Marines operating in Helmand Province in 2002 (epa)


RULING A RESTIVE LAND: On February 12, RFE/RL Radio Free Afghanistan correspondent Jawaid Wafa spoke briefly with Helmand Province Governor MOHAMMAD DAOUD about the ongoing violence in his restive region on the border with Pakistan.
RFE/RL: Recently, there have been many clashes and attacks by insurgents in Helmand Province. What in your view facilitates these attacks, especially in Helmand?
Mohammad Daoud: This province has a 160-kilometer border with Pakistan's Baluchistan Province. In reality, armed people, armed terrorists, from the other side of the border cross the border into Helmand. They carry out attacks and return back. It is a serious problem in Helmand that within our borders there is neither tribal good will, nor are there are special military or security measures to prevent enemies from crossing back and forth.
RFE/RL: The attacks and clashes have not only been between government forces and insurgents. There have been various clashes in different parts of Helmand between police and purported drug smugglers. How do you explain this?
Daoud: Drug smugglers also use the border for their own purposes. They have opened markets on the border and process opium there. This is a serious problem along our border. We are in touch with our authorities on this problem.
RFE/RL: There are government border police patrol your border. What is their role in preventing illegal crossings?
Daoud: Along this 160-kilometer border, there are car routes, walking routes. We have border police, but unfortunately, either because of their own problems or because of weak administration, they have not been able to stop the crossing.
RELATED ARTICLES
ISAF Expands And Prepares For Long-Term Stay