Adhering To The Compact
The compact states that democratic "governance and the protection of human rights constitute the cornerstone of sustainable political progress in Afghanistan."
The Interim Afghanistan National Development Strategy (I-ANDS) -- which underpins the compact on the Afghan side -- is realistic about the country's problems in the governance sector. According to I-ANDS, Afghanistan "does not yet have the capacity or resources to govern effectively."
The realm of informal justice mechanisms -- while very important in the Afghan context and with some regulatory measures a viable means to solve disputes in lieu of state courts in certain circumstances -- requires more understanding before it can be fully utilized.
In the compact, Afghanistan pledges to adhere to a list of public administration reforms, including implementing anticorruption mechanisms and empowering women to participate "in all Afghan governance institutions," in its five-year plan. Such steps are feasible -- at least to a measurable degree -- if acted upon by the Afghan side in strategic coordination with the donors.
What seems unrealistic -- yet its implementation is crucial to Afghanistan's state-building process -- is the pledge to have "functioning institutions of justice" fully operational in each of the country's 34 provinces.
Lack Of Progress
Of all the vital sectors and issues in Afghanistan that need to be addressed -- military, police, judicial, counternarcotics, and disarmament -- the least progress, if any, has been made in the justice institutions.
Unlike the other issues -- where various degrees of reform has taken place since the Bonn agreement, Afghanistan's judicial sector remains more or less dysfunctional and, at the moment, no long-term nationwide plan to fix this problem has been debated -- at least not publicly.
In the I-ANDS, Afghanistan is taking on a lot when it pledges to "establish a sustainable and affordable system of justice" acceptable to all Afghans and "in conformity with international standards." The Afghan Justice Ministry plans within five years to regulate the role of formal and informal justice mechanisms and their areas of jurisdiction.
Fresh from winning the presidential elections in October 2004, Afghan President Hamid Karzai may have lost an opportunity to appoint a reform-minded head of the Supreme Court instead of reaffirming ultraconservative Mawlawi Fazl Hadi Shinwari. Shinwari seems to have enough support among conservatives in the National Assembly who, like him, view the judicial sector as their prerogative. They are likely to retain him as chief justice knowing that he is likely to undermine most of the reforms that do not fit his worldview.
Judicial sector reform can only begin when Afghanistan starts in earnest to train judges, defense lawyers, and other court functionaries both in secular and Islamic legal systems.
Incidentally, the realm of informal justice mechanisms -- while very important in the Afghan context and with some regulatory measures a viable means to solve disputes in lieu of state courts in certain circumstances -- requires more understanding before it can be fully utilized.
While reform in the judicial sector is urgently needed, to achieve all that Afghanistan has agreed to in the I-ANDS -- and which the supporters of Afghanistan have accepted in signing their names to the compact -- seems overly optimistic.
Establishing Stability
While the compact is a political document rather than a binding treaty, it is, according to Afghanistan expert Barnett Rubin of New York University, an attempt to make functional the governing institutions that the 2001 Bonn agreement reestablished. As such, rather than agreeing to benchmarks with a very low probability of completion on time, the compact might have planned a less ambitious but more realistic plan of action. The judicial sector problem appears to be a glaring underestimation of the amount of changes required.
The Afghan government wrote in the I-ANDS that Afghanistan "mobilizes less domestic resources as a percentage" of its gross domestic product than any other state in the world. As such, direct-aid money accounts for the bulk of Afghanistan's budget.
However, Kabul complains in the I-ANDS that less than 25 percent of that aid money goes through Afghanistan's national budget.
Under the new arrangement, Afghanistan is to receive larger portions of the aid that, in theory, should enhance Kabul's control of the country's fiscal policies.
More direct distribution power over the aid should also compel the Afghan government to aid its pledges -- something that Kabul also stated in 2003 and 2004 -- to downsize and professionalize its administrative system and to overtly and -- without regard to the culprit -- fight corruption, beginning with any senior government officials that may be involved in such activities. That, however, is something that cannot be accomplished without an accountable and functional judicial system.
Foreign Minister Abdullah Abdullah
Foreign Minister Abdullah Abdullah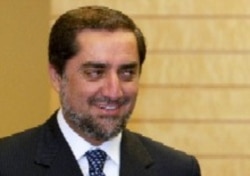 Abdullah Abdullah (epa)


Afghan Foreign Minister ABDULLAH ABDULLAH on January 21 spoke by telephone with RFE/RL Afghan Service correspondent Zarif Nazar. Abdullah discussed the most recent videotaped message from Al-Qaeda leader Osama bin Laden, the current state of the Taliban, terrorist attacks in Afghanistan, and the upcoming London conference on the Afghanistan Compact.
To read the complete interview,click here.