NATO Supports Ukraine's Membership Bid, Conditionally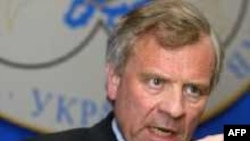 NATO chief Jaap de Hoop Scheffer said if next month's elections are free and fair, Ukraine will improve its membership chances (file photo) (AFP) 16 February 2006 -- NATO says it supports Ukraine's aspirations to join the alliance, but eventual entry will depend on the country's commitment to democratic reforms.
NATO Secretary-General Jaap de Hoop Scheffer told reporters during a visit to the Polish capital, Warsaw, that the alliance hopes Ukraine's parliamentary elections next month "will be free and fair."
Scheffer indicated that the 26 March vote will play a role in Ukraine's possible acceptance into the organization.
Ukraine's Prime Minister Yuriy Yekhanurov was also in Warsaw today for talks with Polish leaders.
(AP, AFP)


An archive of RFE/RL's reporting and analysis on Ukraine's Orange Revolution.
REVOLUTION IN THE AIR: Listen to an audio portrait of the Orange Revolution from RFE/RL's archives.
Real Audio Windows Media