Arbour's visit is scheduled to include a tour of Russia's troubled northern Caucasus region. She is expected to travel on 20 February to the republic of Ingushetia, on 21 February to Chechnya, and on 22 February to Beslan in North Ossetia, the site of the September 2004 school hostage-taking raid by Chechen-linked militants.
Arbour is scheduled to return to Moscow for talks on 23 February with President Vladimir Putin and other officials. She is also expected to visit St. Petersburg.
(with material from ITAR-TASS)
The Chechnya Conflict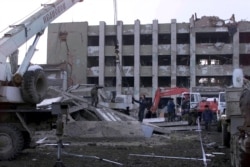 The aftermath of a December 2002 Chechen resistance attack on the main government building in Grozny (epa)


CHRONOLOGY
The
fighting in Chechnya
has raged, with short breaks, since 1994. It has brought misery, death, and destruction to the North Caucasus republic and to Russia as a whole. View an
annotated timeline
of the conflict.

ARCHIVE
RFE/RL's complete coverage of Russia's war-torn Republic of Chechnya.