"A large number of people [in Georgia] are experiencing serious difficulties, and this of course destabilizes the situation not only in the country but in the whole region. If some people suppose that such questions can be resolved by diverting people's attention to looking for external enemies, I believe they are on the wrong track," Putin said at a joint press conference in Baku with Azerbaijani President Ilham Aliyev.
Already strained relations between Russia and Georgia were further exacerbated on 15 February, when Georgian lawmakers called for the pullout of Russian peacekeepers from Georgia's breakaway republic of South Ossetia.
The Georgian Foreign Ministry said today it has asked Moscow for an explanation for an alleged violation of Georgian airspace by Russian aircraft on 21 February. It said the incident was a "gross violation of Georgian sovereignty."
Russia's air force has denied any violation took place.
Georgian President Mikheil Saakashvili said Russia's decision on 21 February to postpone a planned visit this month by Prime Minister Zurab Noghaideli was "another inadequate step" by Moscow.
(civil.ge, primenews.ge, ITAR-TASS, Interfax)
South Ossetia Cease-Fire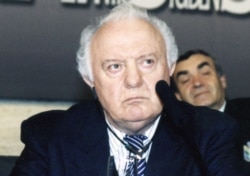 Former Georgian President Eduard Shevardnadze (RFE/RL)

'NO OTHER WAY OUT': Georgia's parliament on February 15 called upon the government to review the 1992 agreement that put an end to the war with South Ossetia and secure the withdrawal of all Russian peacekeepers stationed in the separatist republic. Officials in Tbilisi have long accused the Russian soldiers of siding with the separatist forces and posing a threat to Georgia's national security. Russia has protested the Georgian vote, arguing that Tbilisi has no right unilaterally to amend the 1992 peace agreement. Georgia, in turn, says it has the right to do so.
RFE/RL's Georgian Service correspondent Nona Mchedlishvili asked former President EDUARD SHEVARDNADZE, who signed the agreement with his then Russian counterpart, Boris Yeltsin, to comment on the dispute....(more)
See also:
Tbilisi Seeks EU Support As Tensions Rise In South Ossetia