PRAGUE, 22 February 2006 (RFE/RL) -- It's a very worrying trend: in recent months more than a dozen schools have been set afire in southern Afghanistan, including some 10 schools in Helmand Province.
The latest torching took place on 20 February when unidentified perpetrators set fire to a boys' high school in the Zarghon village of the Nadali district in Helmand. All the books and furniture were destroyed but no one was hurt.
"The Taliban and Al-Qaeda forces follow the policy of burning schools as a long-term strategy to preserve Afghanistan as an [undeveloped] country."
Burnings And Killings
In several other cases, however, schoolteachers have been killed, including a high school teacher who was beheaded in a school in Zabul Province in January.
In mid-December another teacher was dragged out of his classroom and shot dead outside of the gates of his school in Helmand. He had reportedly received threats and warnings to stop teaching boys and girls.
Afghanistan's Independent Human Rights Commission (AIHRC) has expressed serious concern over the attacks on schools and teachers.
AIHRC spokesman Nader Nadery tells RFE/RL that as a result of the violence, many schools in the southern provinces of Zabul, Kandahar, Helmand, and Oruzgan have closed. He says many parents are reluctant to send their children to school.
Closing Out Of Fear
"Unfortunately, in less than six months more than 300 schools have been burned or, for the major part, have been shut down," he said. "Most of the schools have been closed because of the fear of attacks by Taliban and Al-Qaeda forces. And, due to the insecurity that the people in the region [feel], parents are refusing to send their kids to schools."
The United Nations has said that incidents such as the burning of schools fly in the face of efforts to rebuild Afghanistan's shattered education system and the "desire among the Afghan people to see their children educated."
Afghan officials have condemned the attacks and blamed "the enemies of Afghanistan," a term used by Afghan leaders to refer to Taliban militants and other insurgent Islamist groups.
On 9 February, a leading Taliban commander, Mullah Dadullah, told the French news agency AFP that the group has burned down some schools. But he added that the militants only targeted those "where Christianity is being taught."
Taliban Proclaims Innocence
A purported Taliban spokesman, Mohammad Hanif, denied in an interview with the "Christian Science Monitor" that his group is behind the attacks and said that the Taliban supports education.
During the time when the Taliban ruled Afghanistan, girls were banned from attending school and the emphasis in school curriculum was on religious subjects and the study of the Koran.
Vahid Mozhdeh, an Afghan writer and security expert based in Kabul, believes that militants consider schools a government target.
He believes schools are being attacked to force people to send their children to madrasahs.
"They want everybody to attend madrasahs and become a Talib [someone who seeks religious knowledge], religious madrasahs are a place where they can recruit," Mozhdeh said. "But in the main schools, pupils can be influenced by the government so that they burn schools to prevent that. When there won't be any schools in these areas, as there aren't any religious schools either, then families will have no other solution than to send their children to the other side of the border to study in religious schools that are a source of recruitment for the Taliban. [The torching of schools] can have only one reason: attracting young people from schools to attend religious schools."
Some observers believe that schools are being targeted because they are an easy target, others say the attacks on schools are aimed at undermining public trust in the government and creating fear.
Keeping Afghanistan Undeveloped
Nadery notes that by attacking schools, militants are targeting the country's future. "Education and learning make up one of the main pillars that can guarantee the future of Afghanistan as a democratic country that can solve its problems by itself," he said. "The Taliban and Al-Qaeda forces follow the policy of burning schools as a long-term strategy to preserve Afghanistan as an [undeveloped] country."
The AIHRC has called on the Afghan government to ensure the safety of teachers, pupils, and schools. The organization says the increasing number of international troops in the restive southern parts of Afghanistan can play a key role in getting the schools to reopen.
NATO Secretary-General Jaap de Hoop Scheffer said on 9 February that the alliance is committed to expanding its security and reconstruction mission into southern Afghanistan.
He said the NATO-led International Security Assistance Force (ISAF) will be expanded this summer from 9,000 to about 16,000 troops.
Education And Islam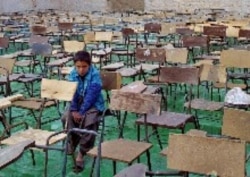 An Afghan child prepares for the first day of school(epa file photo)
KEEPING KIDS IN SCHOOL.
Education raises many vexing social issues in impoverished and predominantly Muslim countries like Afghanistan and the countries of Central Asia. In these countries, many students fail to complete their education for reasons ranging from poverty to discrimination.
"One of the main problems is the distance between the child's home and the nearest school building. This is particularly a problem for adolescent girls because families quite understandably don't feel comfortable allowing the girls to walk long distances unaccompanied to the classrooms," says a UN aid worker in Afghanistan
...(more).
See also:
The Role Of Religion In Classrooms
Madrasahs Reject Government Crackdown Efforts
Madrasahs Lead Religious Teaching Revival

UN Report Finds World's Children 'Excluded And Invisible'